Clubman Cup

Rating: **1/2

Participants: 12

Level: 5

----------------------------good-handling----------------f---------
Tsukuba Circuit (6 laps)
(1,500) 18.52 - 81 hp
(2,000) 19.05 - 105 hp
(2,400) 20.00 - 120 hp
(3,200) 24.43 - 131 hp

Tokyo Route 246 (3 laps)
(1,500) 13.39 - 112 hp
(2,000) 15.15 - 132 hp
(2,400) 17.02 - 141 hp
(3,200) 19.63 - 162 hp

Cape Ring Periphery (3 laps)
(1,500) 23.51 - 64 hp
(2,000) 26.31 - 76 hp
(2,400) 27.27 - 88 hp
(3,200) 32.00 - 100 hp

----------------------------tricky handling-------------------------
Tsukuba Circuit
(1,500) 14.42 - 104 hp
(1,800) 15.92 - 113 hp
(2,400) 16.78 - 143 hp
(3,000) 19.87 - 151 hp
(4,200) 23.73 - 177 hp

Tokyo Route 246
(1,500) 10.79 - 139 hp
(1,800) 11.69 - 154 hp
(2,400) 14.54 - 165 hp
(3,000) 16.22 - 185 hp
(4,200) 18.92 - 222 hp

Cape Ring Periphery
(1,500) 18.99 - 79 hp
(1,800) 21.65 - 83 hp
(2,400) 22.86 - 105 hp
(3,000) 25.64 - 117 hp
(4,200) 31.58 - 133 hp

--------------------Trucks, SUVs, & MPVs---------------------
Tsukuba Circuit
(2,100) 17.21 - 122 hp
(3,500) 20.96 - 167 hp
(4,000) 23.12 - 173 hp

Tokyo Route 246
(2,100) 11.73 - 179 hp
(3,500) 17.33 - 202 hp
(4,000) 18.87 - 212 hp

Cape Ring Periphery
(2,100) 23.59 - 89 hp
(3,500) 27.34 - 128 hp
(4,000) 30.77 - 130 hp

*Cars with tricky handling when stock can be modified to "good" handling, and can now use the first set of ratios above.

** Those with lesser-handling traits (longer brake distances, more understeer, more sliding, harmful oversteer, etc.) after tuning should use the second set. It is possible to enter many classic cars, and preserve their crappier handling by not messing with a limited-slip, better tires, or whatever, and then play the game via this set of ratios. Why would anybody want to do this? Because it's fun!

*** Finally, there are some which have good handling even with no tuning. Obviously, these shall only be using that first set of ratios.


*If the Ford Focus RS, '07 Mazda Roadster RS Honda S2000, or '97 Toyota MR-2 show up and start in at least 5th place, add 5 hp per position.

In other words, if any of these three start in 5th place, add 5 hp. 4th place? Add 10 hp. Pole position? Add 25. Get it? So far, I'm not noticing any major jackrabbits except these four. There are a few minor ones, though, which are listed below in the Opponents section. These can usually be started no higher than 4th or 5th to keep them from jumping far ahead.


Description:
Here we have a 3 race series, 3 to 5 laps each, which can be done individually, or consecutively as a championship for points. The caption for this race is "Welcome to the Clubman, a race for beginners", which is a warning to us GT veterans. Because these races are too frickin' easy. The Clubman belongs in the Beginner's league, I have no idea why it's the start of the Amateurs.

The Clubman and the Sunday Cup used to be side by side in Gran Tusismo 1, 2, and 3, but starting in GT4 were seperated by an entire area. One thing hasn't changed, though. The Clubman has always represented the first major step towards GT stardom. Win the Sunday Cup? Well, anyone can do that! The Clubman usually requires more of everything: more power, more wits, better driving, and perhaps a better car than what was used during the Sunday Cup/Beginner's Series.

There's a new track on the roster: Cape Ring Periphery. Take the time to learn it in detail in Arcade mode or online, for GT5 doesn't let us do practice laps (yet) during the actual championship.

It doesn't take much power to win these because I made an executive decision and have tried to calculate the above ratios for just one tire type (Medium Sports). Lesser tires can be used if you find yourself skooling the Ai and need more of a challenge.

To calculate ratios, I basically grind dozens of races in several cars of various weights, drivetrain types, etc. Some Clubman Cup races feel way too easy (especially at Tsukuba and Cape Ring) while during others there will be one or more cars which get far ahead and are near-impossible to catch. Not much we can do about this so far as planning goes.

I've rated this one just two and a half stars because the Clubman is predictable and doesn't always feel very exciting. I'm not saying the Clubman is a complete borefest, there are some position changes and moments of drama here and there, it's just not as good as I thought it would be. The Beginner level FR Challenge ended with such a bang, you see.

Try not to enter any cars that you'll have to flatten their powerband a lot with a limiter (like any machine with more than 140 hp while stock, seriously). Cape Ring is the exception here. Most cars WILL need a lot of limiting. You'll see why.


Opponents:
We have quite a variety of cars, lots of familiar faces, but also a handful of new ones.

͸ Look for the Ford Focus RS, '07 Mazda Roadster RS, Honda S2000, or '97 Toyota MR2 GT-S most of all. Oddly, none of these appear on the roster of possible cars which can show up, yet they happen to be the strongest. They can make it towards the front of any race, even if they start behind us.

͸ The Audi A3 3.2 quattro, BMW 120i, Mazda Savanna RX-7, Nissan 180SX Type X, Nissan Sil80, and Nissan Skyline GTS-t Type M are also mild jackrabbits if they start near Pole, but don't always do so well if they start downfield. Sometimes yes, sometimes no. There may be a few others here and there to watch for. I'm watching for them. :)

At times, it feels as if this set of races is straight from GT4, especially Tsukuba and Cape Ring. At Cape Ring, it seems most of our opponents are either stoned or sightseeing, as they drive portions of this track (especially the "ring" part) as though they're just "taking it all in". Viewing that nice scenery going by! Notice how little horsepower is needed to survive here at Cape Ring.

The Ai doesn't try very hard or take many chances, but keep in mind it sometimes does surprise us. But overall, the Clubman Cup kinda disappoints. All the opponent drivers are using traction-controls, for instance, and they rarely make mistakes like they did during the Beginner Leagues. There's none of the smoke, none of the accidents, not much passion here. Granted, they are supposed to be more professional drivers than what was found during the Beginner's Series...but something is still missing.

...But don't give up on the Clubman in despair! There are those moments, sometimes late in the race, when there will be 3 or 4 opponents ganging up on us for the lead, especially at Route 246, sometimes at Cape Ring. These moments aren't always reliable, though.

Also, it's interesting to see front-drives finally making a huge difference in GT, and not just the hot hatches. I've seen larger front-drive sedans like the Primera and Infiniti G20 put up a good fight on the front lines. Rarely would a front-drive of any sort be something to fear in GT4, especially since tire wear happened so quick. So the Clubman Cup in GT5, it seems, are a set of events in which FF cars are matched well with other drivetrain types, and PD should be given a quick moment of praise for this.

Parts Used:
Medium Sport tires (lesser tires can also be used if more challenge is desired, especially at Tsukuba and Cape Ring, but I've tried to calculate the above ratios for M. Sports). Hard Sport tires are best for grids which feature mostly front-drives.

Fixed Sport Suspension (those with tight handling with stock parts shouldn't need this).

Height-adjustable Sport Suspension. This can be used to try to get a tricky-handling car to "good-handling" status.

Limited-slip device, especially for those with poor traction or tricky handling.

Close-ratio transmission for some at Tsukuba and Cape Ring, only if the car truely needs it.

Full-custom transmission for those that need taller gears at Route 246.

Single plate clutch + lighter flywheel if your car needs a small bit of help accelerating.


Cars used for ratios
'91 Suzuki Cappucino (1,500 / fly-weight, good-handling)

'95 Mazda Miata S-special (2,000 / light-weight, good-handling)

'83 Nissan EXA Canopy (2,400 / mid-weight, good-handling)

'04 BMW 120d and 120i (3,200 / heavyweight, good-handling)
'66 Honda S800 (1,500 / flyweight, tricky-handling)
74 Triumph Spitfire (1,800 / lightweight, tricky handling)

'79 Datsun 910 SSS (2,400 / mid-weight , tricky handling)
'62 Prince Skyline (3,000 / heavy weight, tricky handling)
'88 Volvo 240 GLT Estate (4,200 / ultra-heavy, tricky handling)

'03 Scion xB (2,100 MPV/Trucks)

'03 Honda Element (3,500 MPV/Trucks)
'03 Honda Odyssey (4,000 MPV/Trucks)



-------------------------------------------------------------------------------------------------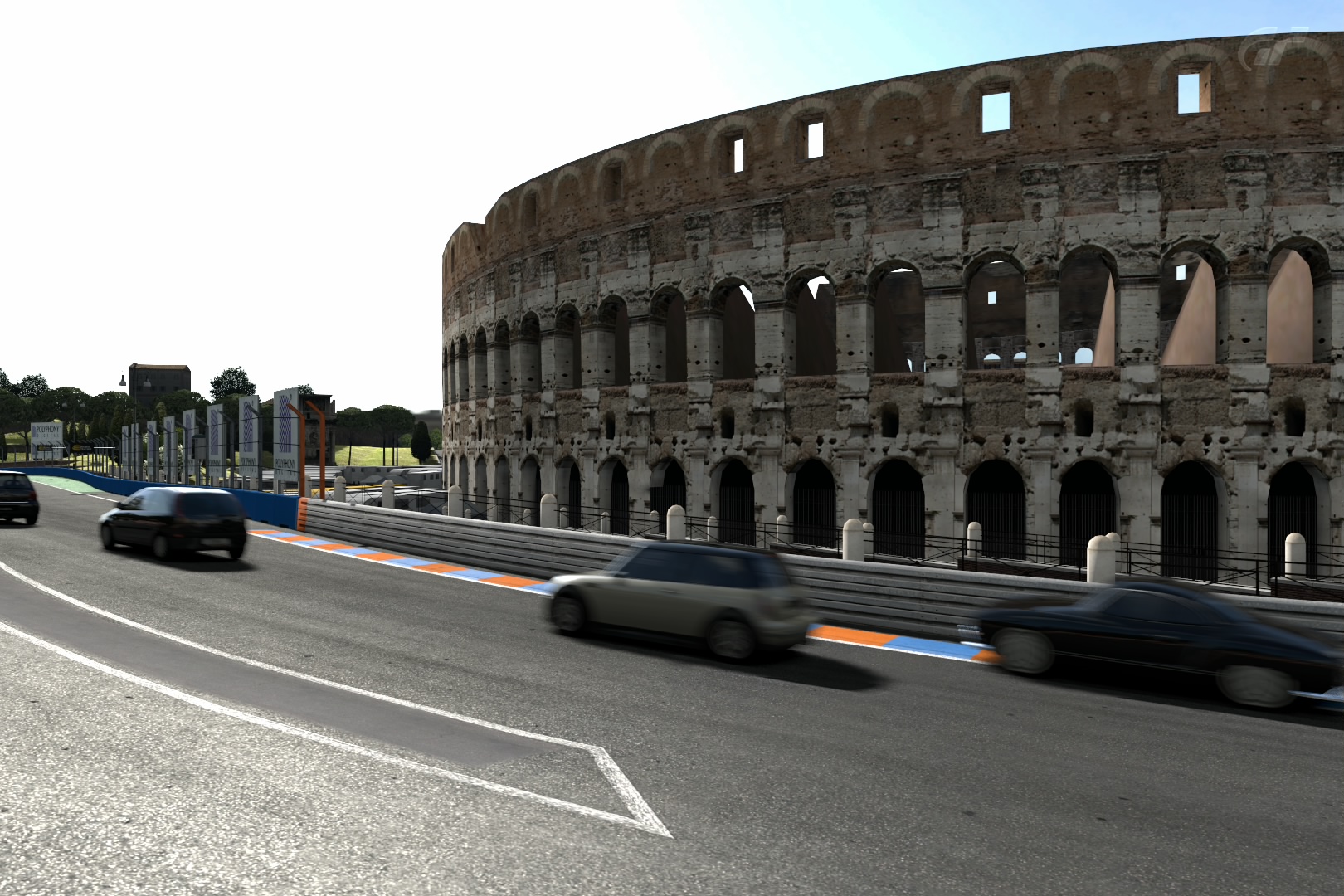 European Hot Hatch Championship

rating: **

Participants: 10

Level: 5

Eiger Nordwand (short track)
(1,000) 9.61- 104 hp
(1,700) 13.82 - 123 hp
(3,200) 20.78 - 154 hp
(4,200) 21.00 - 200 hp

Rome Circuit
(1,000) 10.10 - 99 hp
(1,700) 14.65 - 116 hp
(3,200) 19.63 - 163 hp
(4,200) 19.90 - 211 hp


Description
Wow, only two tracks to this series? Okay...

Both races are 3 laps apiece. Good news is, the competition is tight. PD has mostly selected modern hot hatch types, and seems to have attempted to balance power between them. For instance, I've seen a front-drive VW New Beetle eke out some distance over a rear-drive BMW 120i, which has to be a first. The next race, a VW Lupo also held its lead over cars traditionally more aggressive with track prowess. The only time a Beetle or a Lupo won anything in previous Gran Turismos would have been during actual Beetle and Lupo cup races.

Another interesting tidbit is we aren't forced to just race hot hatches, it just has to be Eurpoean. I've entered a '66 Beetle (classified in real-life as a 2-door sedan) a '68 Karmann-Ghia (coupe), and an '88 Volvo 240 GLT. This is a plus for those who are trying to break the mold.


Opponents
Bad news? Yes there is some. Both these races are usually predictable, even at Rome with its longer straight areas. The racing can be tight, but whoever's up front is usually the same driver who's going to stay up front (unless we take over his/her position). Usually. This is not set in stone 100% of the time, but let's say maybe 80% of the time it is, especially at Eiger.

Bottom line: the Ai hasn't got many chances to overtake us or each other, so there isn't much drama here. Just pass one car after another 'til you get to the front.

They mostly behave themselves in these two races. There is some rare punting, but overall the EHHC lacks some of the fire found during previous races. Though there aren't really any true GT4-style jackrabbits that get half-a-track ahead of everyone else, it helps to keep the following cars off of pole, just for the sake of making the above weight-to-power ratios work best.

MINI Cooper or Cooper S

Peugeot 206 RC (maybe the regular 206 as well)

BMW 120i

Then again, if you really wanna go hardcore, find a grid with one of these (or more than) on the front lines! This is only recommended if you've got a machine that's got some decent handling though. As mentioned, there are a few others like the VW Beetle and VW Lupo (hot hatch types, basically) who will also do well at both races, but this assumes they start on Pole.

Parts Needed
Soft Comfort tires for the majority of cars (front, rear or all-wheel drive).

Hard Sport tires for some older cars like the Karmann Ghia. I also raced my '88 Volvo with these. Hard sports can also be used if any of the fastest cars mentioned above (in the Opponents section) start on Pole. The Ginetta was raced with comforts.

Fixed Sport Suspension for those rare cars that need it. Most "hot hatch" types typically have acceptable handling though, so go stock with these.

Close-ratio transmission

Assorted drivetrain parts. The '80 Renault 5 Turbo, Ginetta G4, and Karmann Ghia will need LSD tuning, for instance. The '88 Volvo will not, but it will need carbon driveshaft and a better clutch & flywheel.

Full-custom transmission, assuming you're daring enough to use a '49 Beetle (ha ha).

Cars used for ratios:'
''64 Ginetta G4 S II (flyweight / 1,000)
'68 VW Karmann-Ghia (lightweight / 1,700)
'04 BMW 120i & 120d (heavyweight / 3,200)
'88 Volvo 240 GLT Estate (ultra-heavy / 4,200)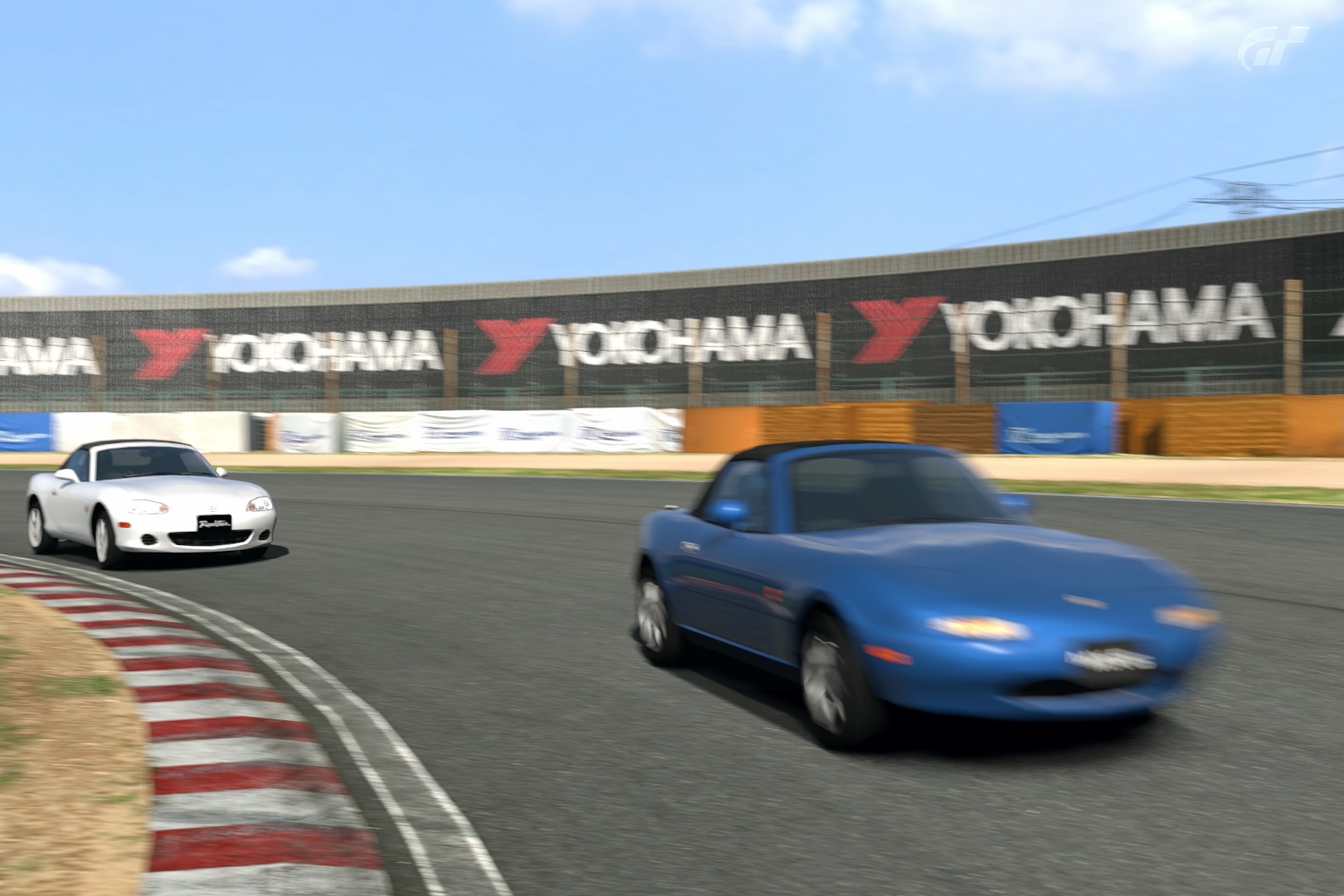 ----------------------------------------------------------------------------------------------

NR-A Roadster Cup

rating: ***

participants: 12

Level: 6

(2,000) 16.53 - 121 hp
(2,200) 17.19 - 128 hp
(2,400) 18.32 - 131 hp


Description:
Welcome back to Tsukuba, once again. Here we have another one-make race held at just one track.

Any Mazda MX-5 can be used, but the best for us to use will probably be coming from the Used Car Lot. The weaker, the better. These cars usually start with 115 to 125 horsepower. Somewhere down there. A small power boost (oil change, usually) might be needed to bring these older cars up to spec.

There are a couple older Premium MX-5s as well, but it's possible for a spendthrift to find a cheaper model from the used lot, if he or she is that concerned about money. The Premiums have have similar power to used cars, though.

The newer '07 Mazda Roadster from the Premium lot can be used as well, but this one has a lot more power than the older ones, which can make for a race that's not as exciting. bla blabla..

It's best to keep our Miata or Roadster or MX-5 or Eunos Roadster as stock as possible, with the exception of maybe an oil change or a phatter muffler. This makes things easy on our bank account, and also provides the best challenge.


Opponents:
PD has played with power a bit, so that earlier model cars (which have weaker engines) are on the same page as later ones. The result: no MX-5 really shines over another. There are rare times when one car will get ahead of others, but it seems like this happens to be due to whoever's behind the wheel, not the car itself.

There are few passing zones. Not for us, but for the enemy, who doesn't drive as aggressively into those turns as we can. So use those hairpins and curves to advantage.

...And if you're having trouble, remember this race happens to be 5 laps. Plenty of time to get situated and eventually defeat the enemy.

Parts recommended:
Soft comfort tires

Cars used for ratios:
'All sorts of Miatas.

----------------------------------------------------------------------

Pickup Truck Challenge

Rating: *

participants: 12

Level: 6

Laguna Seca
(3,800) 12.66 - 300 hp
(4,700) 13.42 - 350 hp
(5,300) 14.68 - 361 hp

Daytona Superspeedway
(3,800) 8.29 - 362 hp
(4,700) 11.52 - 408 hp
(5,300) 12.61 - 420 hp :-)


Description
Sorry to start on a negative tone, but these events sucked in GT4 and they still kinda suck now. It's not so much that we have to race trucks, it's the fact that we have to race them at a couple of tracks which don't highlight how fun truck-racing can be. I think Toscana off-road would be a much better choice, for instance. Instead we get Laguna Seca. There's also the fact that we have such a limited selection of vehicles to choose from. I still wanna race my Land Rover Storm in these and still it cannot be done.

There's also the usual lack of power needed to complete these. I'm sure all the noob drivers out there might have probs during the Pickup-truck races, but us pros will just blow 'em away. Well, at Laguna we will. My initial drive in a Ford F-150 at Laguna Seca yielded an easy 2nd place, even though my truck was completely stock (on radial tires) and needed an oil change. Daytona often poses more of a challenge, which will be outlined below.

Finally, there's the prize: a Daihatsu Midget for all our troubles.

A Daihatsu. Midget.


Opponents:
In GT4, the Chevy Silverado was the ultimate truck to watch for, everybody else was just about average. In GT5, this is no longer so.

At Laguna Seca, I've only seen the Toyota Tacomas have the ability to make headway over other trucks, possibly since Tacomas are the only ones with shorter 6-speed trannies (everybody else has gearboxes that are too tall for usefulness). Other than the Tacomas, nobody really jumps far ahead of anybody else. Even the Silverado lags behind, sometimes even if it starts on pole. Start the Tacomas no higher than 4th place, and you'll rarely have to worry about anybody else.

Daytona is a different story. Everybody is on the same page here, since they're all drafting, bump-drafting, and punting each other. It can be challenging to wind up being the one who's in first exactly as the race ends; this requires strategy and timing.

For those who have not downloaded Update 2.0, be aware that that the Ai at Daytona can be very aggressive. They have a tendency to pit-maneuver and spin us if they don't like what we're doing. It can get annoying because they will not spin each other, only us. After 2.0, however, things only improve. Not only are they more civil on those tracks, the enemy has a tendency to actually work with us at times, nudging our truck (and other trucks occasionally) with bump-drafts.

Tip 1: One thing we can do at Daytona pre-2.0 (if you don't mind a bit of immersion-breaking) is to race in 3rd person mode, so that the camera is behind the truck. This helps a bit to see who's around you, behind you, and about to punt you. Switching to bumper cam (mirror only) helps at certain moments, too.

Tip 2: I've had mild success bump-drafting another truck, and pushing that single truck far ahead of the pack early during Lap 1. Usually, a lighter Tacoma or Chevy SSR make the best bump-draft partners, heavy trucks like the Ram mostly soak up our bumps. It's possible to push this truck ahead of everyone else, get ahead of it, let it catch your draft and pass you, and finally draft or bump-draft it again.

This works sometimes. Other times, the opponent truck seems to freak out, and wiggles out of our way just when we're trying to land its bumper. Dumbass! I'm trying to HELP you!


Parts Needed:
Soft Comfort tires at Laguna Seca

Hard Sports at Daytona

Close-ratio transmission for some models at Laguna Seca

Trucks used for ratios
Chevrolet SSR (3,800)
Ford F-150 SVT Lightning (4,700)
Dodge Ram 1500 Quad Cab (5,300)


-----------------------------------------------------------------------------------
Japanese 90's Challenge

Rating: *

Participants: 8

Level: 7


Tsukuba
(1,200) 11.88 - 101 hp
(1,800) 16.66 - 108 hp
(2,500) 17.24 - 145 hp
(3,000) 18.63 - 161 hp

Cape Ring North
(1,200) 13.79 - 87 hp
(1,800) 19.56 - 92 hp
(2,500) 21.93 - 114 hp
(3,000) 23.80 - 126 hp


*The above ratios assume the best rear-drives (MR2s, Miatas, MX-5s, Silvias, RX-7s) are kept off Pole position. Any rear-drives not mentioned, like the Supra SR-Z or Altezza, will not matter. More power may be needed, especially at Tsukuba, if they start on Pole, assuming you've not entered a rear-drive of your own.
A lot of grids happen to have one of the better rear-drives on pole, so if your car is FF or a Kei (etc.) you'll need to add a few horses. No more then 10. Or be patient and look for a lesser Pole driver.

Description:
Now it's time to race amongst a who's who of Japanese sports cars from the '90s! The 1990s were arguably the best, most competitive of times from the Japanese Domestic Market. Both of these are 5 laps. In some past GT games the Japan-only races have been pretty decent, so let's get psyched!

Unfortunately, the reality. So many people have complained about the lack of racing in A-spec mode (in comparison to GT4) and unfortunately I think I'm starting to get it. In GT4, there were FIVE Japanese 90's events. Now we're down to just two.

The racing itself isn't all that great. Once again, I bet these two races were a lot more fun when they were standing starts (pre-Update 1.06). Now, it's just pass one car after another 'til you get to the front. In comparison, I described GT4's Japanese '90s events as "unpredictable". Therefore, at 1 star, this is one of the first times a GT5 event is rating lower than the GT4 idea it was originated from.

When buying a car, make sure you're getting one of JDM's slowest representations. Chances are, you will not need an NSX, a turbocharged 240SX, an Integra or even a Starlet Glanza; such cars will simply blow the way through the melee with seconds to spare. Instead, look for a Yaris, a front-drive Celica, or a Miata. Sadly, it doesn't take much to win these two races. I'm about to start looking at some Keis in an effort at truer competition!

Tsukuba can be accomplished with minimal (if any) power-ups. I've made sure the racing is good here, but in most cases some power-restricting will be involved, even for cars which already seem weak.

Cape Ring North, on the other hand, is so friggin' EASY. Even with stock power (137 hp) my Silvia Q's was smoking the Ai, especially when we all got to the "ring". It's a guarantee most cars you'll race here will need to have their limiters hacking some serious power, unless you've sunk to Yaris or Kei car levels. Sad.

Opponents:
They all rate just above or below 200 hp, and drive with the sort of safeness that makes for a rather boring set of races. Update 1.10 (which has just been released at this writing) is supposed to make GT5's drivers more witty and challenging, which makes me glad I never did the '90s races before 1.10.

If you're wanting to see some sparring between the Ai, one thing that can be tried to liven things up is to start lesser front-drives (a Celica SS-II for instance) in front of rear-drives which are known to be dominant during other events (Miatas, MR2s, Altezzas, etc). This works sometimes, other times it doesn't.


Parts needed:
Soft Comfort tires at Tsukuba
Hard Sport tires for the Daihatsu Midget at Tsukuba. I haven't encountered any others so far that need this particular upgrade. Soft radials can be used at Cape Ring for this model, though.
Medium Comforts at Cape Ring for those that need them. If your car got in 1st place at Tsukuba by at least Lap 4 on softs, chances are it'll need mediums for 'The Ring'.

Close-ratio transmission, perhaps. If the car somehow really needs some help. A full-customized tranny can be used if it really needs help.

Cars used for Ratios:

'98 Daihatsu Midget (1,200)
'99 Toyota Yaris (1,800)
'91 Nissan Silvia Q's (2,500)
'97 Toyota Celica SS-II (3,000 ... lots of ballast here)

---------------------------------------------------------------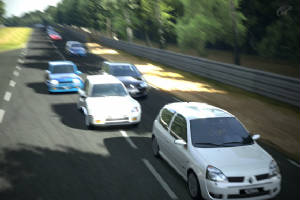 Tous France Championnat

rating: ***

Participants: 12

Level: 7

Circuit de la Sarthe
(2,000) 12.34 - 162 hp
(2,300) 13.29 - 173 hp
(3,500) 18.23 - 192 hp
(3,800) 18.72 - 203 hp

Madrid Circuit
(2,000) 14.59 - 137 hp
(2,300) 14.55 - 158 hp
(3,500) 20.23 - 173 hp
(3,800) 20.21 - 188 hp


*At Sarthe the fastest cars can be started in any position. Start them downfield for a fair fight, or put them on or near pole for more challenge.

* At Madrid, more power might be needed if any of the faster MR RR, or 4WDs mentioned in the Opponents section sits on 1st or 2nd place. Add up to 10 hp if this is the case.

*IF any of the faster FWD opponents listed in the opponents section sit on or near pole at Madrid, do not change power unless your car is a competent handler. Remove 20 to 30 hp if this is the case. This power can also be deducted if you simply need some more challenge, even if your car isn't so good with handling, because the front-drives do Madrid way too conservatively.

* If NO faster cars (FWD or any other drivetrain) sit on or near pole at Madrid, try docking up to 50 hp! In some cases, even more than 50 might be appropriate.

....And keep in mind that sometimes the Ai drives so timidly at Madrid that it doesn't seem to matter how much power we remove here. You can try going further than 50, but then you risk the chance of a better set of drivers suddenly showing up.


Description:
Viva le France! Comment 'alez vous? Never mind, I fell asleep in French class back when I was forced to take it in middle school so...

....Now it's time to race some French cars! Though there isn't as large a selection of Frenchmobiles as there is Japanese, American, and English, we still have a variety to choose from. Everything from the monster Renault Clio Sport V6s to the lowly Citroen 2CV can be entered. Drivers like you and me, of course, will probably want to choose neither one of these. One is a slug, the other a walkover-machine.

Tous France isn't really all that challenging (unless you drive an old classic with no ABS!), and again, not much power is needed to succeed. But the racing itself is decent at times. Decent and close.


Opponents:
Watch for the mid-engined Hommell Berlinette and Renault 5 Turbo most of all, but there are some front-drives (any 1-series thru 3-series Peugeots and Renault Meganes), 4-wheel drives ('85 Peugeot 205 Turbo), and rear-engine cars (Alpines) that can compete up front, too.

I have yet to see a Clio Sport V6 show up in these. If it does, it should also be added to the above list.

Traffic can be mildly agro at Sarthe, lightly punting and skewing us sideways just as we're trying to make a perfect entry into the turn at the end of the Mulsanne. Truthfully, it's not entirely their fault. The Ai here tends to run a tight race, all 12 cars rubbing and getting into each other's business. They also draft one another effectively down those straights. There's only so much room for them to maneuver by the time the turns approach, meaning we'll find ourselves caught up in the melee at times.

At Madrid, the main difference is passing zones are much more restrictive, meaning the better enemy cars listed above won't always make it to the front, even if they start in 3rd thru 5th place. Only if one of them is sitting on pole or 2nd might we need to add a small amount of power, but this assumes the car we've entered has some mediocre handling, or some other such problem. Cars which are more confident might need to have some of the better opponents starting way up front.

Parts:
Soft Comfort tires

Full-custom transmission at Sarthe for some cars

Close-ratio transmission at Madrid for some

I raced a Renault 5 Turbo with no ABS, but included a limited-slip device. This part will also be needed when driving Alpines (also with no ABS).

Cars used for ratios:
'80 Renault 5 Turbo & Peugeot 106 Rallye (2,000)
'02 Renault Clio 2.0 16v (2,300)
'98 Peugeot 406 3.0 V6 (3,500)
'02 Renault Avantime (3,800)

---------------------------------------------------------------
Festival Italia

rating: ***

participants: 10

Level: 8

Rome Circuit
(1,500) 11.28 - 133 hp
(2,100) 14.58 - 144 hp
(3,500) 19.44 - 180 hp

London
(1,500) 12.00 - 125 hp
(2,100) 15.33 - 137 hp
(3,500) 21.34 - 164 hp


*If the Autobianchi or sometimes older Alfa models start on or near pole position, 10 hp may need to be added, especially at Rome.

* the Lancia Stratos will demand even more power if it shows up, sometimes even if it starts at last place. Again, this is truest at Rome.


Description:
The "Italia Festival" follows GT5's odd trend of two races held at two tracks, 3 laps per. Dismal, but at this point, I'm personally getting used to this game's lack of additional racing. One can only hope the Pro league gets better, or some new events get introduced via updates or DLC or whatever.

And it sucks because most of the racing is actually decent, unlike some of the other Amateur Series. Again, this assumes you've got a car which hasn't got much power (Lambos and Ferraris? No.) and it also assumes our cars are stock with suspension, brake, transmission/drivetrain, and sometimes tires.

Opponents:
There is some good racing here, as noted above. Perhaps it's due to the fact that both tracks have few passing zones, and the passing zones which do exist are to be found at some of the narrower parts of London and Rome. There's also GT5's familiar roster of drivers, some aggressive, and some more cautious. All of this adds to the fun at these two tricky tracks.

Surprisingly, older models do really well here, to the point of jackrabbit-dom at times. This includes (get this) that car so many of us have made fun of, the car we've all sold multiple times after winning it as a prize in both GT4 and GT5, the '79 Autobianchi A112 Abarth! I've seen this front-drive city car pwn some of Italy's more modern autos. At Rome, be prepared to watch as the Autobianchi can jump from last place all the way to the front lines!

Older Alfas (the Spider and GTA, etc.) can also be ones to watch for although these only do well if they start on or near pole. They usually don't make their way to the front from the rear of the pack. All of these older cars won't always blow away newer ones, they only mildly can skool them. Perhaps it's due to their lighter weight and more nimble handling characteristics.

The only really true jackrabbit, though, is the '73 Lancia Stratos, which isn't really a surprise. If it makes its way to the front, there's simply no stopping it, and you'll need to start over with more power (I'm guessing at least 20 hp more) if you want to catch up to it. It might be prudent to keep the Stratos out of the race altogether, actually. It's kinda like the Shelby Series 1 when it shows up in the Beginner League's FR Challenge.

And there is some other bits of sparring here and there with the sim cars, all of which is welcome and makes me wish there was more racing, more laps, and at least one more track (Monza) to race at. Sigh.

Parts:
Hard Sport tires

Soft Comfort tires perhaps for Italy's better-handling cars.

Close-ratio transmission at London perhaps, for those with tall gears.
Single-plate clutch and better flywheel for those who need a little help.

All else generally stock.

Cars Used:
'65 Alfa Romeo Giulia Sprint GTA (1,500)
'66 Alfa Romeo Spider
'98 Alfa Romeo 166 2.5 V6 24v Sportronic

-------------------------------------------------------------------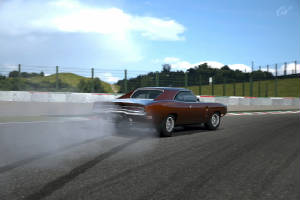 Classic Muscle Car Championship

rating: ***

participants: 12

Level: 8

Autodroma Nationale Monza (3 laps)
(2,400) 8.39 - 286 hp
(3,200) 10.63 - 301 hp
(3,700) 11.38 - 325 hp

The above ratios represent races in which the fastest cars (see Opponents section below) do NOT start on or near pole position (1st or 2nd place). Some power may be needed if they start in 1st or 2nd.

** The above ratios were created with the worst models. If a smaller, nimbly-handling car is driven (Camaro, Mustang, Corvette, etc.), use 10 hp less.
***The only exception to this rule: the '53 Corvette used to make the 2,400 pound ratio used the power stated above. But if this car had been driven with its factory weight of 2,885 pounds, it would have had its power slightly deducted. Confused?

Description:
Once again, we have just one track to race at.

> It's easy to buy a full-modifyable transmission, gear it higher than usual, and slaughter if you've got some power added. But if you're restricting that muscle, this race actually feels competitive with full-custom gearing. Chances are, some restriction will be needed in most cases.

> If you opt to drive with a stock gearbox instead, there's usually only one or two areas of the track where the RPM limiter will get us, depends which car you've got.


Opponents:
Our opponents are all on medium sport tires, and I was fearing I'd have to break out the Comforts to make this race artificially challenging, but this seems not to be the case...

Notice there's a 3-star rating at the Monza CMCC. The actual racing is pretty good! There are lots of position changes, lots of jockey-moves by our opponents during the entire race...from straights to corners. Normally, I'd complain about the TCS the Ai is using, but at this level, it simply helps them drive their best, and makes these races not quite the walkover I was expecting.

There are a few alphas, though. Typically, it'll be the Corvettes, and some of the "pony cars" that show up. These handle a bit better than the others, and were used in real-life circuit racing back in the '60s and '70s. Here's a list of all.

any Chevy Camaros
any Chevy Corvettes (especially the '69 Stingrays)
'65 Shelby Mustang
'67 Mercury Cougar

The Dodge Challenger should be on the above list, but its gearing is way too short.

Jackrabbit situations (where one car gets far ahead of the others) do occur, but they're rare. Usually it'll be due to one car getting thru congested traffic jams successfully, not one car with some huge advantage over the others. Even the lightest car of the field (the Shelby Mustang, which is several hundred pounds less than everyone else) has probs being tops, since its gearbox is too short.


Parts Needed;
Medium Sport tires

Hard sports can be used if more of a challenge is desired, especially if you're driving a Corvette or one of the ponies mentioned above.
A combination of Hard front and Mediums rear might work with some cars (especially if ABS is not being used). This will diminish rear-end burnout madness, but will also create more noticeable understeer.

Full-custom gearing if you really need it.

Everything else stock.

Oh, no ABS or brake balancer, please

Cars used for ratios:
'53 Chevrolet Corvette (2,400)
'69 Chevrolet Camaro Z28, '64 Pontiac GTO (3,200)
'70 Dodge Charger (3,700)

----------------------------------------------------------------------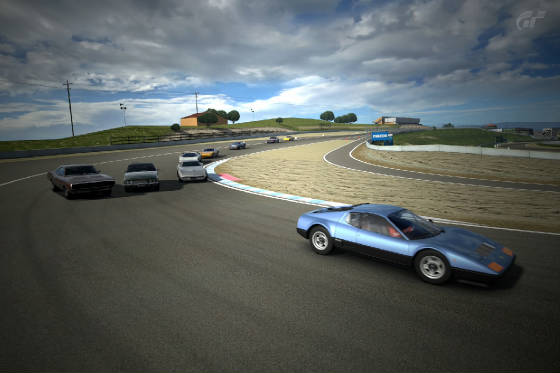 Supercar Nostalgia Cup

Rating: ***

participants: 12


Level: 9

Sports Cars
Rome Circuit
(1,000) 3.66 - 273 hp
(1,900) 5.97 - 318 hp
(3,500) 8.73 - 401 hp
Suzuka Circuit
(1,000) 3.78 - 264 hp
(1,900) 6.17 - 308 hp
(3,500) 8.41 - 416 hp
Laguna Seca
(1,000) 4.11 - 243 hp
(1,900) 6.76 - 281 hp
(3,500) 8.90 - 393 hp
Touring Cars
Rome Circuit
(2,100) 5.91 - 355 hp
(2,500) 6.41 - 390 hp
(3,100) 7.29 - 425 hp
(3,700) 7.90 - 468 hp

Suzuka Circuit
(2,100) 6.02 - 349 hp
(2,500) 6.74 - 371 hp
(3,100) 7.65 - 405 hp
(3,700) 8.01 - 462 hp

Laguna Seca
(2,100) 6.19 - 339 hp
(2,500) 6.96 - 359 hp
(3,100) 8.44 - 367 hp
(3,700) 9.27 - 399 hp

*Touring Car class includes typical 4-seaters or 2+2s. The Sports Car class is being designed more specifically for 2-seaters, though it's possible there may be that oddball which can be moved from one class to the next.
**In general, keep the Lamborghinis as downfield as possible, 3rd place at the highest for a Countach, 4th place for a Miura. Ferraris, Corvettes and Jensens (in that order) are usually 2nd, 3rd, and 4th compared to the Lambos.
*** Not all 'sports cars' are created equal. I recently raced a Ferrari 512 BB that wound up needing the Touring Car class to survive. Corvettes and other bad handlers might also need this class, though I did use a highly-modified '69 Stingray to create the 3,500 pound heavyweight ratios.


Description:
Here's a set of events that're looking like could be interesting, and there's actually more than two tracks to show up to! All are 3 laps. Choose a car from 1979 or earlier, one which has some actual power (YES!) and you're generally good to go.

The drivers we're up against are all in so-called "supercars", but we don't have to be. Therefore, I plan on racing that Camaro I just drove at Monza, and look forward to taking some other cars in the future which are not from the "super" or "muscle" categories.

One thing that's guaranteed: in many cases, we'll be adding some power, not restricting it. That's good news, eh? Woulda been nice to see some of this action during the Japanese '90s races.

Opponents:
PD seems to have chosen some top cars from back in the day, but we only have 5 makes to race against. What's odd is the way the grid is arranged. Notice it goes in a pattern: The Jensen Interceptor is followed by a Countach, a Ferrari, another Lambo, a '69 Stingray, and from here the entire line-up repeats itself starting with the Jensen, the Countach, etc. There are variations of this pattern from race to race, but the pattern itself always repeats. A small oddity not seen before from PD, or maybe I've just never noticed this.

The races are mostly predictable...the Italians (Ferraris and Lambos) getting a sizeable jump on everybody else, and there is a lot of challenge to keep up with these guys. It's possible to find a grid with a Jensen or a Corvette starting on Pole, which helps to hold the Italians back a little at the beginning of the race, but they'll wind up getting ahead of the Jensens and Corvettes no matter what.

Rome:
They're unusually dumb here...not really agro...just dumb. Watch out for cars that try to occasionally spin us as we brake into Rome's tighter turns. They're not punting so much that they're constantly rubbing up against our rear fenders & bumper, just as we're needing to position ourselves into a difficult area.

They do this because they've been programmed to be as competitive as possible, which means they're simply trying to gain a position. But...this sort of stuff often works, and they often do gain the position they seek. This is the reason why these races are tougher & more competitive than many others from the GT5 Amateur Series. Hmmm ... maybe they're not so dumb after all.

Suzuka:
The Italians are still in charge, and they do well at Suzuka's straights and larger curves, but slow way down as they get to the smaller S turns. This area (the esses) is where we can gain the most position with the least worry.

The Lamborghini Miuras are the deadliest at Suzuka. They tend to shine above the Countachs and Ferrari 512BBs, but sometimes have trouble getting bottlenecked behind these two. It's recommended to start the Miuras behind one of these, or no higher than 4th place, especially if your car isn't so competent with handling.

Laguna Seca:
The Italians aren't so deadly now that they have all those corners to contend with. Heh heh heh. They also have a tendency to get slowed as they bottleneck behind the Corvettes and Jensens. But they're still dangerous, so try to start them at least in 3rd place, especially the Miuras.


Parts Needed:

NO ABS OR BRAKE BALANCER

Hard Sport tires

Medium Sports for poor-handling autos (this can include Sports Car Class or Touring Car Class).

Full-custom suspension for some models like that muscle car. Others may be able to go stock or use a sport suspension.

Full-custom gearing (if your car needs it)

Assorted drivetrain parts (esp. for lower torque engines).

Limited-slip differential for some models.

Cars used:
'64 Ginetta G4 (1,000 Sports Car)
78 Dome Zero Concept (1,900 Sports Car)
'69 Chevrolet Corvette (3,500 Sports Car)
'73 BMW 2002 Turbo (2,100 Touring Car)
'65 Shelby Mustang (2,500 Touring Car)
'69 Chevy Camaro SS (3,100 Touring Car)
'70 Dodge Charger (3,700 Touring Car)

The Ginetta was given lots of attention, as it was difficult to tune. Medium sports + full-custom suspension, and a 10-45-35 limited-slip worked for me.
Dome and BMW were driven on medium sports with a height-adjustable sport suspension for all races. The Dome required a very heavily-set limited-slip (38-55-49) to survive.
The Corvette had all full-custom parts (except body kit stuff), and used hard sports at Rome and L. Seca, but mediums at Suzuka.

The Mustang was driven on hard sports with a fixed sport suspension at Rome and Laguna Seca. Mediums sports with an adjustable sport
suspension was used at Suzuka.

The other cars (Camaro and Charger) had mediums on for all races AFAIK, with full-custom parts.