Year Represented: 1965-1966
Class: Pony Car
Type: 2-door coupe

Hosts: GT2, GT4, & GT5
Country of Origin: USA

Price: GT2: $42,400
GT4: $90,193 via memory card trade.
GT5: $95,550 (used car lot)

GT5 Mileage: 12.439.3

Construction: unitary steel with fiberglass hood & front spoiler
Length: 181.6" // Width: 68.2" // Height: 51.2"
Wheelbase: 108.0"
Overhang: 6 feet 7 inches
Track: 58.1" front & rear
Ground Clear: 5.5"
Weight: 2,799 pounds (GT2) 2,795 pounds (GT4 & 5)

Steering: unassisted reciculating ball
Layout: front engine / rear-drive
Tires: 7.75 x 15 Goodyear Blue Dots
F. Suspension: A-arms, coils, shox, anti-roll bar
R. suspension: live axle, leaf springs, traction bars, shox
Brakes: disc / drum

#GT5 Mustang received oil change but no engine rebuild

#GT5 car was tested with Hard Sport tires.

Engine: 289 cubic-inch OHV V8
Aspiration: natural
Fuel System: single 4-barrel carburetor
Valves / Cyl: 2
Bore x Stroke: 4.00 x 2.87"
Compression:

GT2 Tested HP: 308 @ 6,000 rpm
GT2 Tstd Torque: 330 @ 4,000 rpm

GT4 Garage HP: 306 @ 6,000 rpm
GT4 Grg Torque: 329 @ 3,500 rpm

GT5 Tested HP: 304 @ 6,000 rpm
GT5 Tstd Torq: 327 @ 4,000

````````````````````````````GT2````````````GT4````````````GT5`````
Credits per HP: $137.66 $292.75 $314.31
Pounds per HP: 9.09 9.13 9.19
Pounds per trq: 8.51 8.49 8.55
HP per Liter: 59.1 65.1 64.2


GT4 Idle Speed: 750 // Redline (GT2 & 4): 6,500 // RPM Limit: 7,000

GT5 Idle: 750 // Redline: 6,600 // RPM Limit: 7,000

Transmission: 4-speed manual
Differential: limited-slip


0-60 mph:
GT2: 5.213 seconds
GT4: 7.083
GT5: 6.970

0-100 mph:
GT2: 12.782 seconds
GT4: 13.666
GT5: 13.711

0-150 mph: nil

400 M:
GT2: 14.084 @ 105 mph
GT4: 15.187 @ 107 mph
GT5: 15.212 @ 105 mph

1/4 Mile:
GT5: 15.261 @ 106 mph

1 Kilom:
GT2: 24.875 @ 127 mph
GT4: 26.114 @ 135 mph
GT5: 26.246 @ 130 mph

1 Mile:
GT5: 36.808 @ 130 mph

Test Track Lap: no tests in GT2, 4, or 5

100-zero mph: ``
GT2: 4.23 seconds
GT4: 4.18 seconds
GT5: 5.20 "


Top Gear RPM @ 60 mph: 3,300 (GT2) 3,100 (GT4) 3,000 (GT5)

Top Speed at Redline
1st: 54 mph
2nd: 78 mph
3rd: 104 mph
4th: 127 mph @ 7,000 (GT2, RPM/gearing limited)
135.57 mph @ 7,000 (GT4....)
131.8x mph @ 7,000 (GT5....)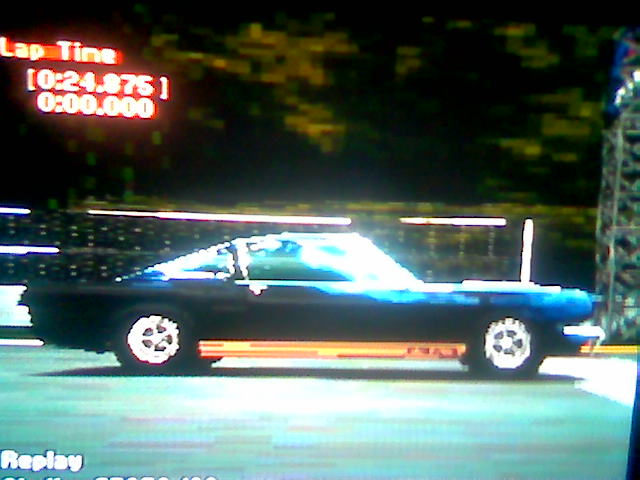 ------------EXTERIOR / HISTORY------------

When I was 15, I went on one of my very first dates, which was with a 13-year old blonde I'll call Althea (since that was her name). She was a country girl, and we had a short fling which started after I played hookey from high school to visit my old middle school. She thought it was a daring move, and we started hand-writing letters back and forth with actual pens and paper, this being the age before Facebook, before e-mail, before personal computers, really.

Our first (and only) official date took place on a cold day in 1982. She was a horse rider, so the idea was we'd ride horses together or something. Problem was, I was not a horse rider. In fact, I was hugely embarassed when Althea took off without me, while I had no clue what the hell I was supposed to do to get this horse to move!

It was the first, and last time I ever rode a horse...not that I actually rode it. The animal merely stood there dumbly, and I secretly hoped that it would continue to stand there dumbly!


All of these memories came back as I drove this "horse": the Shelby Mustang G.T. 350R. It appears in GT2 and GT4, and is quite a wild ride.

The story goes like this. When Ford introduced their Mustang, Henry II and company were eager for as many sales as possible, and to place this plan more firmly into action, they looked to enter their ponester into SCCA's B/Production class. Ford engines had dominated Corvettes and Ferraris in the USRRC (United States Road Race of Champions), and in SCCA's A-production class when installed in Shelby's Cobras. Henry Ford II must have been appeased by this taste of glory. The next step would be to try and conquer SCCA's B-production.

Unfortunately, there was a technicality. Ford classified the Mustang as a 2-door sedan (for marketing purposes), even though it could have passed for a 2+2 coupe. SCCA's rules didn't allow sedans for whatever reason, so Ford was stuck. What to do?

Enter Carroll Shelby, that sly entrepreneur! Ford turned to Shelby to see if something could be worked out.

What wound up happening is Ford decided to give Shelby license to produce his own brand of Mustangs. Ford and Shelby had already been working with one another for several years at this point on the Cobra, so this arrangement worked out just fine. Ford started handing over stripped Mustangs so Shelby could perform his magic. Once Shelby started producing his version of the 'Stang. He classed it as a coupe, thereby getting past the SCCA's rule. Ford Mustangs could not race in the SCCA, but Shelby Mustangs could.


These cars left the Ford assembly line sans side or rear windows, hood, bumpers, a heater or defroster, upholstery, noise insulation, or a radio. Shelby would then install plexiglass side and rear windows, a fiberglass hood with a functional hood scoop, fiberglass front spoiler, some engine / exhuast improvements, rear traction bars, and some even got fiberglass seats!

SCCA also required manufacturers trying to enter their B class to produce a minimum of 100 cars. Ford/Shelby struggled during the latter part of 1964 to get this done in time before the 1965 season, which had a cut-off date sometime in January of that year. Thankfully, they managed to get it done.

The new Mustang would be called the Shelby Mustang G.T. 350R. It looked like a regular Mustang coupe, but had a more interesting 2-stripe paint job, a fiberglass hood with fully-functional airscoop (as mentioned), a front spoiler, Crager wheels as an option, and missing bumpers. The bumpers were left off to save weight, obviously, but it's interesting because nowadays nobody would dream of selling a car for street use without bumpers, internal or external.

So why the number "350"? There are numerous rumors and theories. Some say it's in reference to the square-footage of one of Shelby's car-building garages. Another theory has Shelby being quoted as having said something like it took "350 steps to make it from one of his shops to the next". And some rumors say (this is my favorite) it's in reference to the fact that Chevy's Corvette at the time had a 350-c.i.d. engine, and Shelby/Ford managed to kill the Corvette recently in racing.

Whatever the rumor, five-hundred sixteen Mustang G.T. 350s were produced for the street, with one street prototype also being built. There were 36 or 37 racing models like the 350R in GT4, nine drag cars, two pace cars (these made an appearance during the Indy 500 of '65, and probably some other events), and two competition prototypes.

Street versions of the 350R were expensive for the times, costing $4,547! (Woo!) I need a time-machine. :-/ Racing versions cost even more at $5,995, which still seems a steal! I really need a time machine! Hence, the car in our game, which costs just over $40,000 in GT2 or $90,193 in GT4 via memory card trade, has had quite a markup, which isn't all regular inflation pricing.

Ken Miles and Bob Bondurant were lucky enough to find themselves as 350R beta testers. As it was, the Mustang was already quite a good-handling car for its day, so it seems their job was to find stuff to tweak, rather than to drastically retune the entire chassis. In addition to tweaking, these competition Mustangs would be given larger radiators, oil coolers, "Detroit Locker" limited-slips, the 289 Hi-Po engine, better front and rear brake cooling, a 34 gallon gas tank, electric fuel pump, and had their batteries mounted in the trunk for better weight distribution. There was also no muffler installed on the [R] versions, of course.

The 350R's debut SCCA melee was at the Green Valley Raceway in Texas. Driven by Ken Miles, it won its very first official SCCA event! Jerry Titus wound up winning the 1965 championship that year, though. But for the rest of the '60s, the Mustang G.T. 350R had plenty more wins against rival Corvettes, Jaguar E-Types, Porsches, et cetera. 1966 and '67 were also championship years in the SCCA's B/Production class. There's some delicious footage of this car's days on YouTube, should you ever get interested. Not all of it has audio, unfortunately.

Anyways, the Wimbledon White color scheme with blue stripes is nice (GT4), but it's too bad there aren't any additional colors. But it's not PD's fault; 1965 Shelbys only came in white with blue stripes. Only in 1966 did other colors get offered, and notice the 1966 Shelby Mustang G.T. 350R of GT2 can be bought in five different colors. They're all delicious, too. 1966 350Rs also had their appearance made more civil with real bumpers, but otherwise, they could still be differentiated from regular Mustangs of the day.

There's a reason the Shelby Mustang G.T. 350R got such a winning reputation seemingly from nowhere, let's find out where it all starts.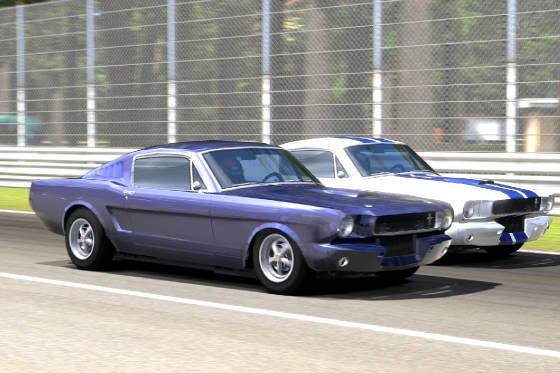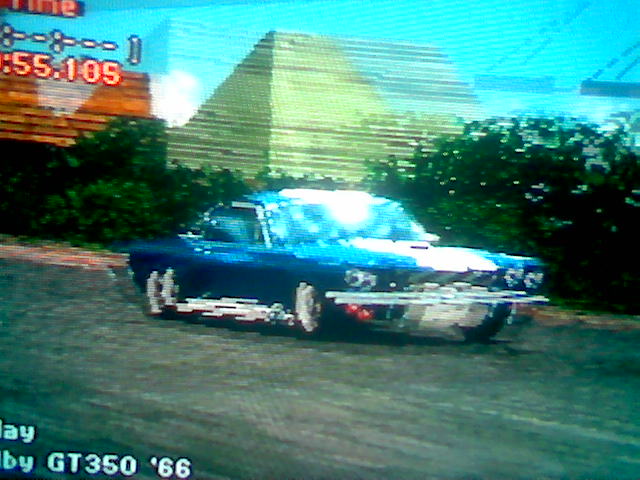 ------------ENGINE / DRIVETRAIN------------
It starts with Ford's infamous 289 cubic-inch "Hi-Po" engine. These had solid valve lifters, an aluminum intake manifold, and were rated at 271 horsepower when they left the Ford factory. Shelby managed to tweak this further, so that the 350R holds an engine rated at
304
to
308 hp
with about
329 foot-pounds of torque
in our games. Not a bad start. GT5 models (which are often found in the used car lots) will sometimes need an oil change to achieve these numbers.
These early Mustangs were too small to accept any of Ford's big blocks, but at the time this didn't matter, for they weren't also ponderously heavy, yet (as later Mustangs eventually would be). Car & Driver tested the 350R in May of 1965. It got to 60 mph (from zero) in 6.5 seconds and made a 14.9 second quarter at 95 mph. When comparing these numbers to the game, results are a bit dodgy.
From idle to redline, I got results which varied quite a bit: zero to 60 at
5.283 seconds
in GT2 (and that's with some considerable wheelspin / Normal tires), but
7.083 seconds
in GT4 on medium sports! GT5's Mustang could do slightly better than GT4's, oddly, even though the 'stang in this game is on hard sport tires instead of mediums. I did a second test for the GT4 car at some point, this time letting the clutch in carefully near redline, and got a more satisfying
5.750
.
Running to the quarter mile in GT2, the game Shelby gets there a moment quicker than the real-life car (
14.084
versus 14.9). The GT4 car is slowest at
15.187
, but (again) I did a second test, letting the clutch in near redline, and got results similar to GT2:
14.040 @ 107 mph
. And once again, the car in GT5 is slightly faster than in GT4.
Not perfect, but at least PD's in the ballpark here.
As a small block carbureted engine, the 289 feels great at higher revs, but sometimes lacks a bit of torque (and therefore, movement) below 3 or 4,000 rpms, depending which game and tuning accessories we're talking about. GT2's Shelby never suffers from lower-RPM hesitation, but in GT4 we feel this problem the most. This can become a problem during races, as there are times when we'll need to drop into these lower revs as the car's leaving a slow corner. Sometimes, first gear winds up being our only option at these times, so watch out! because once the tach reaches its prime area, the rear suddenly
bursts
with wheelspin if the driver isn't being careful with that throttle. GT5 cars are also prone to lower-rev hesitation, stock or tuned, so watch that tach when the speed gets low, and cars gang up all around trying to force their way.
This is obviously a race-bred engine, with peak torque showing up mid-range, peak power somewhere near redline, but not much going on the lower end of the tach. I think Shelby has something to tell us here:
we're not supposed to be revving this low in this car!
The 289 does its best work as those revs pile up, which is the area we want to be as much as possible.
Let's also talk about
gearing,
which has been carefully planned for the quarter mile, but not much else.
Short gearing maxes that 289 out of revs, even before 1000 meters are past! dang! This car's stock 4-speed is often too short to make it down some longer straight areas, meaning a full-custom box is needed. However, there
are
quite a few tracks that the stock box can be used at, like Laguna Seca and Infineon, especially if power is kept lowish. The good news is: With power kept low at a turny/twisty track, stock gearing actually can be useful, lending us some wicked-fast acceleration.
The 289 features a highish 7,000 rpm peak area, with a 6,500 rpm redline in either GT2 or GT4, but 6,600 in GT5. Keep those revs high, and there will be few problems. But like I said, sometimes we'll have to dip into the nether regions of the power-band while the 350R's V8 bogs and loses momentum. Again, GT4 is where this seems to happen the most.
Since this is basically a street racer, the Shelby Mustang should offer some street-racing power, right? And as it turns out, Carroll & Company are on our side here. I have yet to fully tune up the 289 in any game, but
www.formulanone.org/gt2
has this one listed at 551 hp at the highest.
-----------CHASSIS / HANDLING-----------

As a pony car (rather than a pure muscle car), the Mustang was the first of its type, and this thankfully shows in our games. 350Rs as they appear in Gran Turismo are just as wild, cantankerous, and fun to drive as they must have been in real-life, but they take some agility to master. As I've driven this pony from game to game, I wasn't always necessarily more confident behind its wheel than I was sitting on that horse's back nearly 30 years ago!


GT2
I drove the 350R completely stock, but only briefly, so my experience with it in this game isn't as high. But even with a short time (less than an hour) of driving, it's obvious there's one huge advantage: FUN.

The 350R Mustang is at its most playful in GT2. Graphics may be horrible; in fact I wound up crashing my Candy Apple Red 350R into a guardrail because I forgot about all the massive pop-up in this game! 10 yards before the guardrail 'popped-up', there was nothing ahead but clear track! So the graphics may be horrendous, but driving this car is still lots of fun.

...Lots of drifting. Lots of getting completely sideways, and then easily claiming it all back with one simple steering motion!

In GT2, the 350R takes off with a bit of wheel slip even under full power, yet survives and can make some great acceleration despite this as seen during the Engine/Drivetrain section. Not much finessing is needed to get this pony going, although some finessing helps to get the best acceleration out of first or 2nd gear.

...But it's not all fun!

Brakes are responsive, better than those of many other '60s-era cars in GT2, but still need to be applied early. Otherwise, guess what? There's understeer. Forgot about the understeer of GT2, to be honest. Quite alot of it shows up if the driver isn't careful. The 350R also leans heavily into turns, since it's on those soft springs. But only rarely will it lose composure. There's lots of grip mid-corner, lots of traction.

Understeer is relentless, however. Well, as relentless as understeer can possibly get in GT2! It's not as bad as GT4, for instance, but it's almost as bad. Pushing happens both in and out, under braking and under throttle, but (thankfully) all of this assumes the driver pushes too hard. If he or she doesn't, the Shelby Mustang in this game has a huge window to play safely in. :-D

What's weird is (with stock tires and power) it's hard to break the rear. It's possible, but it can take some tossing about. But once it breaks, the Pony gets loose! And (as I said) this car can get a little wild, but it's easy to keep it from impending disasters in this game.

Overall: Lots of fun! Not for beginners, but not just for experts either.


GT4
So I made the mistake of switching directly from GT2 to GT4. :-( What's quickly obvious? No more fun! Really, that's mistruthful. The Shelby Mustang G.T. as it appears in GT4 is still fun to toss about, but it's not as fun. It's maybe only half as fun as the car in GT2.

Why this discrephancy? The expected answer is understeer, of course. Understeer in this game is definitely the biggest minus. Just like GT2, it can appear both into and out of turns. Unlike GT2, it's harder to avoid, and persists with a greater presence than it did in the earlier game. The way to avoid plowing is careful tuning and lots of brake time. Again, brakes must be applied somewhat earlier than usual. The Mustang in this game isn't the worst car ever in this regard, but if the driver misses a braking point, there's nothing ahead but understeer.

The other contentious point of woe is the Mustang's rear-end. While near-stock, there's lots of traction, actually. Only 1st gear must be applied carefully. This changes as power gets pushed above Stage 2 (roughly 400 horses). A limited-slip differential is recommended even before we get to Stage 2, though. As it's a pony car, it does get wild in GT4 if you want it to, and sometimes if you don't want it to! LSD can help. So can a semi-racing or full-customizable suspension.

The plus side to all this is: here is where all the fun lies! Getting the Mustang slightly sideways (not as much as in GT2, but still enough), getting a mushy drifting motion out of some corners. GT4's 350R is tougher to drift (much tougher) than GT2's, unfortunately; but everything else (sliding, smoke, wild bucking motions, etc) is here for the playing. Before I actually raced the 350R in this game, I had to take it to Infineon for some warm-up laps, where I wound up (instead) pushing the 'Stang into as many drifts, slides, and burnouts as I could!


GT5
We might as well call the 350R as it appears in this game "Muscle Car Junior". It's very much like other examples we've seen from its time period (so far as handling goes), but it's also smaller and several hundred pounds lighter than any of those guys. Like GT2, we're back to having lots more pure fun while driving and racing this car, but for those who can't handle it, this car can also be pure frustration, much more difficult than the GT2 Shelby.

Bigger Americans like Super Bees, 'Cudas, and Chevelles tend to slide and thrash about. They don't corner with confidence. This 1st-generation Mustang (in its day) was supposed to be one of America's BEST-handling automobiles, but this is mostly because it was so much lighter and smaller than its competition. In reality, it can be just as difficult to drive as some of those larger machines, its lightness tends to make the Mustang twitchier and more nervous than larger muscle cars.

The difference is the Mustang does offer some help, and can usually avoid some of its most drastic behaviors if the driver does a little planning and tunes for the occasion. The Mustang fishtails, it slides, it loses traction, but it also offers a much more nimble, spirited drive than a GTO or a lunky Charger. This can be good or bad.

In some ways, those heavier cars have an advantage, here. Their weight can sometimes keep them from losing traction as easily, since there's more pounds being forced upon those rear tires. The gas-pedal can be pasted to the floor more safely in these automobiles, with less of a chance of harmful wheelspin. You may be surprised to find that even in some of the mildest of curves, the Shelby Mustang 350R actually can start to divert itself, nervously jumping and twitching about. I'm not talking about understeer and pushing, I am actually talking of oversteer. It's not the front that'll start to lose it, often it'll actually be the rear. This can happen even as engine power is below 400 hp.

But overall, we're back to having some fun here, guys and gals, just as we were in GT2. Understeer is usually at a minimum (unlike GT4), but it can show up at times, especially on-entry into slower turns. When it does show up, it's usually something we can work with. What's more of a reality, like I was saying, is oversteer.

Oversteer! Learn that word...put it in your vocabulary, your DumbPhone, whatever. Just as it was in GT2, the 350R can once again kick about its tail! Get wild and have a party! It does so with stock power, and these behaviors get even wilder as the Stages pile up.

It's time to tune if we're planning on avoiding some of this. I've found a limited-slip geared with 30 ish Initial Torque, 40ish Accel, and 5 Decel can help. Tall gearing also helps, because it forces the engine to mete out its power dolefully, keeping power from just lashing to those rear wheels as quickly. And of course, there's suspension tuning once we're really getting desperate. There's also a noticable jump in confidence once those hard sport tires are swapped up for mediums.

Oh, and there's brakes..heh heh heh. It's time to brake everyone! Start taking notes!

Braking in this game can sometimes ruin the mood before it's even had a chance to set in. Matter of fact, with a lack of ABS, braking abilities are now at their absolute WORST, especially as we're needing to slow into curvy areas. GT2 & 4 cars only need to brake early so we avoid understeer. Well GT5's 'stang also needs early braking, but now it's more likely we're going to need to do so to avoid rear-swaying oversteer! The Mustang's ultra-nimble persona often gets way too eager as we're braking-in. Slides and wheel lockups can happen easily and quickly, and it'll usually be the rear that's sliding, not the front (although understeer does occasionally still happen).

Bottom line: Just like a wild mustang horse, the Mustang G.T. 350R can sometimes enter turns with complete grippiness and confidence one moment, but suddenly lose its cool in an instant if we make the simplest of errors. A little too much steering input matched with a downshift at the wrong moment, for instance. The entire car now bucks and skews itself into a slide, as if we're on a horse that's spooked and is now trying to throw us into the nearest alfalfa patch!

For all these reasons, this is a car that is definitely NOT for beginners. Beginners need not apply! If we're talking in animal terms, it's not a good idea to ride a mustang if you haven't mastered a donkey, yet.

On the other hand, if we're needing to slow ourselves into a slower area (esses, for instance) and we're already going kinda slow, the Mustang's ability to twist and turn as we're braking can now be a major bonus, especially since the awful understeer of GT4 is now mostly gone. Compared to heavier American cars from its era, the Mustang's duplicitous and agile abilities are certainly something to look forward to now. Turn that steering wheel, and the front-end always at least responds. It may not always respond accurately, but at least understeer is not 90% of our cornering future in such areas.

Summary
For those of us with patience, who know countersteering, braking, and throttle control, the Shelby Mustang can be one hell of a friend in GT2, GT4, and GT5. But the thing is we can never fully trust this friend. As the car is cornering, it's always up to something. It always wants to get wild and break loose, just like an untamed horse on a prarie. This horse spends its days in a stable most of its life (the way real 1st-gen Mustangs often wind up in garages, auctions, and car shows more often than they're driven) when it really just wants to run. We must make sure we can handle this! There's always some sort of catastrophe just a foot-tap away, and we must do our best to ride out the bucks and the kicks to survive.

But the good new? None of us will ever have to go on an embarassing, acne-causing date to enjoy this virtual car!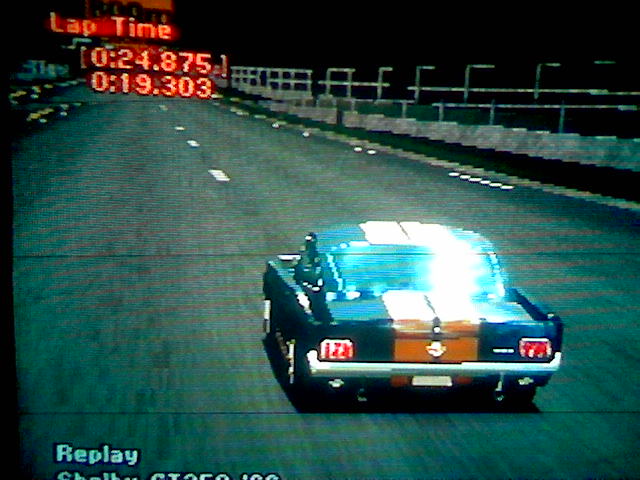 PROS------------------------------------------

1). Definitely a looker. PD got the pertinent visual differences between the '65 and the '66 (GT4/5 and GT2, respectively).

2). Racy, high-revving engine, acceptable acceleration from Day 1. This is truest in GT2, but GT4 and 5 cars also eventually start to shine once the driver figures them out.

3). Engine upgrades boost power like they should. GT4 & 5 even have the Shelby's real-life optional Paxton supercharger as an aftermarket surprise.

4). Sounds great, too. GT4's version sounds a little better than GT2's though. GT5's 'stangs always sound fantastic, even with after-market exhausts (any of them!)

5). Slidey, drifty madness in GT2 and 5! This car was drifting way before the term "drifting" was even even invented. This is true in the 4th game as well, although it can take some pro moves to implement these actions.

6). At $42,400 in GT2, the Shelby Mustang is a steal considering just a few hundred models were made in real-life.

7). One hell of a challenge for pro-drivers to master. I think it's downright impossible to ever get bored of this car.


CONS----------------------------------------------

1). 4-speed tranny can't hurdle over 135 mph in any game.

2). Understeer of all kinds, in GT2 and 4 (not so much in GT5, where oversteer dominates).

3). Tricky launching (GT4, mostly) as those rear tires don't always hook-up like a modern GT's tires would.

4). Depending on the game, situation, and engine tuning, lower RPMs can sometimes be a bad sandbox to play in.

5). Limited-slip, chassis reinforcements, and other advanced parts needed early to tame this wild beast, despite the fact that in the mid-60s, Shelby Mustangs were considered one of America's best-handling.

6). GT2 & 4: Exhaust upgrades sometimes make it sound as if something ate the V8!

7). Must be won as a prize in GT4, and trades for just over $90,000 from memory card to memory card. GT5 Shelbys also cost over 90K (from what I've encountered), even though they're used cars.

8). As cool-looking as the Mustang is, its blocky fascia isn't exactly all that aerodynamic.

9). I need a time machine!


Published: March 28, 2010

GT5 Content: March 11, 2012