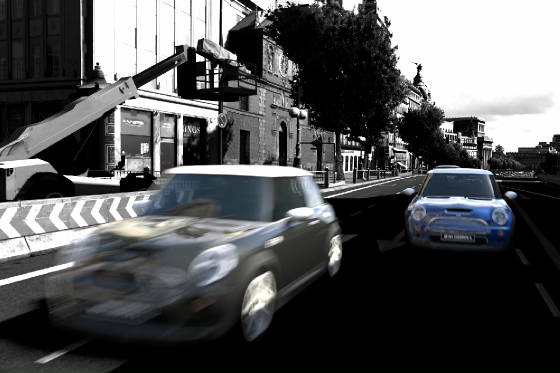 Mini Challenge

rating: *

participants: 12

Level: 10

Circuto de Madrid
'98 Mini 1.3i: 111 hp + assorted parts (see below)

'02 MINI One: 122 hp + assorted parts
'02 or '05 MINI Cooper: 120 hp

'02 or '05 MINI Cooper S: 118 hp

'11 Mini Cooper S: 124 hp

* Weight reductions are not needed. If your Mini has weight reduced, you'll need even less power than is recommended above, or you can boost your car's weight with ballast.

Less power than what's posted above can be used, but this will also guarantee some cock-blocking & punting will be required for success.

Description:
Welcome to the Professional Series. Our first mission? Let's race against some 160-ish horsepower Minis. Lmao. The caption for this race says something like "it's time to push your Mini to the max". Lol.

In case you don't know--this means these Minis aren't even tuned, or in the case of the MINI ONE, are barely tuned. I was gonna see if I could make this race ultra difficult by entering one of my ancient '70 Mini Marcos GTs. This cannot be done, though.

The best car for us ironically is the '98 1.3i, which can be won from this event. In a 1.3i, better tires and power will be needed (rather than restricted).


Opponents:
It's not just that their cars are not tuned (or barely tuned), it's also the fact that the Ai simply cannot drive this course very well. They're way too cautious, release their throttles when they should be burying them, and never take any risks in those tighter turns.

The Mini Challenge is nothing but a pwn-fest for us.

Parts:
Comfort Soft tires.

Add a 5-speed close-ratio transmission to the MINI One. The Cooper and Cooper S can go stock, though.

Add a Sport suspension, Hard Sports, single-plate clutch, and close-ratio transmission for the '98 Mini 1.3i. Remove ABS brakes.

Cars used:
Minis. Lots and lots of Minis.

-------------------------------------------------------------------


Muscle Car Championship

Rating: ***

participants: 12

Level: 11

-CARS with ABS brakes-
Daytona Road Course (3 Laps)
(2,000) 9.01 - 222 hp
(2,500) 10.00 - 250 hp
(3,500) 11.26 - 311 hp
(4,100) 12.31 - 333 hp

Laguna Seca (5 Laps)
(2,000) 9.43 - 212 hp
(2,500) 10.42 - 240 hp
(3,500) 11.55 - 303 hp
(4,100) 12.73 - 322 hp

-Cars without ABS-
Daytona Road Course (3 Laps)
(2,600) 9.88 - 263 hp
(3,500) 10.47 - 334 hp
(4,000) 11.70 - 371 hp

Laguna Seca
(2,600) 9.96 - 261 hp
(3,500) 10.97 - 319 hp
(4,000) 11.48 - 348 hp

-TRUCKS-


*The ratios above for CARS/Daytona can be used with front or rear-drives.

*The Daytona ratios can be used if the best cars (Vipers, Corvettes, Camaros etc.) start on Pole, especially if your car has ABS-type brakes. If it has old-fashioned brakes (non-ABS), it's sometimes better to have the fastest cars sit somewhat downfield.

*** If these faster cars are downfield (and your car has ABS brakes), power may need to be docked...a suggested 5 to 10 hp per position, depending if the car is Historic or not. Some Historic cars with below-average braking won't need power removed.

* The Laguna Seca ratios assume a top-handling rear-drive is being used and the best cars start on Pole position. Otherwise, start these better cars no higher than 3rd. Keep in mind that some older muscle (Corvettes, the Shelby Mustang, for example) are on this list, now that their RPMs aren't being maxed.
Add up to 20 hp if you're using a front-drive at Laguna if some help is needed. The clumsy Ford Taurus, for instance will need this bonus, but the more-nimble Ford Focus probably won't.

** Laguna Seca: If the grid in front of us is packed with older cars and/or front-drives, use 20 to 50 hp less. Dock more power for the most capable cars, and less power for front-drives and others which have natural disadvantages.


Description:
Unlike the Muscle Car race during the Amateurs (the one at Monza) we are not restricted to cars from 1969 or earlier now. It just has to be American. There's also a new track for us to possibly practice for now if we haven't done so yet: Daytona's Road Course. Sweet.

The cars we're up against often rate higher than 400 hp, and I initially got all psyched and entered a Camaro Z28 with 399, only to find it in 1st place by the beginning of Lap 2. So unfortunately, not much power is needed to succeed here, unless you've entered a Taurus or some other machine which is not "muscle".

Opponents:
Despite the fact these are supposed to be races for "muscle cars", there are a few which are definitely not muscle: including front-drives Dodge Neon and Ford Taurus SHO. Apparently, any car from America is considered a muscle car. Surprisingly, the Neon can actually keep up with us and blow lots of rear-drives away, too!

At Daytona, it's recommended to put as many non-classic muscle cars and 2-seater sports cars in front of us for the best challenge, especially if your car can handle itself competently. So this means, try to find grids that feature the 1988 Chevy Camaro or newer up front. We want as many Vipers, 'Vettes, and Camaros from the '90s and 2000s. Challengers. Prowlers. Mustang SVT Cobras. These grids can be somewhat difficult to locate, but once you find a good one it'll be worth all the reloads.
Older muscle cars still have their stock gearing, which means they'll simply fall way behind at some point. To liven Daytona up, it's important to get as much of a challenge as possible.

The opponents here drive way too cautiously on those banks, braking and releasing their gas-pedals for no obvious reason. But they can also draft one another, and can team up (a Corvette and a Viper for instance) to get well ahead of the competition. Another cool thing about the Daytona race is there are times when the Ai starts making mistakes. Getting too hot into the first deadly sets of turns, smoking their tires, etc. This is the action usually only the B-spec drivers get to experience, of course, so take it for what it's worth. .

Laguna Seca poses an interesting challenge, as now some older cars (like the '65 Shelby Mustang GT 350, '67 Mercury Cougar, and '69 Corvette Stingray) can keep up; their close-ratio 4-speeds now getting better usage. It's recommended to put the best up front at Laguna, and like I said this can include vehicles from any era. Put one on pole, and then include 3 or 4 others if possible on the front lines. Starting these cars downfield (or even on 2nd place) can make things too easy for us.

...They're not very good with passing at this track, but if they haven't got anything to pass, this is best situation for us.

...Again, if your car is not adept at handling and braking at Laguna, search for easier grids if necessary.

Parts Needed:
Soft Sport tires

Medium sport tires at Laguna Seca for some newer millenium cars (or 2-seat sports cars from the 90s like Vipers and Corvettes) if "qualifying" around an empty track can be accomplished quicker than 1:41.000.

Fixed Sport suspension for some cars as needed. Many modern FRs can go stock, though.

Fixed-adjustable or Full-custom suspension for older classics, and clumsier front-drives.

Full-custom transmission for some older classics, especially at Daytona. Gearing can be set anywhere from 160 to 180 mph (257 to 289 km/h). Keep in mind the car's top speed is not measured at redline, it is measured at the absolute top RPMs available on the tach.

Close-ratio transmission for some cars with super-tall gears like the Taurus SHO, especially at Laguna Seca.

Drivetrain parts as needed. Limited-slip device for some, too.
Brake Balancer for some non-racing types.

Cars Used:
'03 Scion xA (2,000 ABS brakes)
'03 Ford Focus ST-170 (2,500, ABS brakes)
'04 DeLorean DMC-12 (2,600, non-ABS brakes)
'97 Chevy Camaro Z28 & '98 Ford Taurus SHO (3,500, ABS brakes)
'87 Buick GNX (3,600) non-ABS brakes)
'05 Chrysler 300C (4,100, ABS brakes)
'70 Dodge Challenger R/T (4,000, non-ABS)
-----------------------------------------------------
Supercar Festival


rating: ****

participants: 12

Level: 11

--------------------Sports Car Class------------------

Highspeed Ring
(2,400) 6.40 - 375 hp
(3,000) 7.28 - 412 hp
(3,700) 8.60 - 430 hp

Daytona Superspeedway
(2,400) 4.97 - 483 hp
(3,000) 5.69 - 527 hp
(3,700) 6.88 - 538 hp

Nürburgring GP/F
(2,400) 5.25 - 457 hp
(3,000) 6.16 - 487 hp
(3,700) 7.37 - 502 hp

------------------Tuned Car Class-------------------

High Speed Ring II
(2,400) 5.66 - 424 hp
(3,000) 5.93 - 506 hp
(3,500) 6.66 - 525 hp
(4,500) 8.11 - 555 hp


Daytona Superspeedway
(2,400) 4.89 - 491 hp
(3,000) 5.30 - 566 hp
(3,500) 6.14 - 570 hp
(4,500) 7.15 - 630 hp

Nürburgring GP/F
(2,400) 5.06 - 474 hp
(3,000) 5.90 - 508 hp
(3,500) 6.11 - 573 hp
(4,500) 7.05 - 638 hp


# There are currently 2 classes above.
Sports Car Class involves those which have race-worthy handling from the getgo, and may only need "tweaks" to successfully compete. Think Audi R8, BMW 3 or 5-series, Corvette C5 or C6. Honda NSX, Tommykairas, most TVRs. Some Ferraris, Lambos, and the Maserati. Some RUFs. Shelby Series 1. And then plenty of cars you might not expect, like the 2010 Camaro.

Tuned Car Class includes "normal" sports cars and muscle, like Mustangs, older Camaros, Dodge Challenger, 3000GTs, STIs, Evos, Any Audi other than the R8, Chrysler 300, Nissan's older Skylines that aren't GT-Rs, and lesser machines which need to be tuned more extensively for success. These sorts might not have race-worthy handling while stock, or they might have blocky aerodynamics which limit their overall speed.

A third class (Supercar) may be created in the future, as well. These are the top-notch exotics (many of which can be found in the classification lists below).


* High Speed Ring: grid placement can be a gamble here. Generally, the best from the Sports Car Class can deal with Group 1 cars placed anywhere, even on Pole. Those from the Tuned Car Class might need to have the grid structured more strategically, with the best cars placed 4th place or less. If you've got a competent car which handles well, and are faced with a grid of mostly Group 2 up front, try removing 20 to 40 horsepower for closer action.
* Daytona: The above ratios should be used if the best Ai (Group 1) start on or near Pole position. Up to 100 hp can be docked if the grid in front of us is packed with mostly Group 2 and 3 machines, although finding such a grid is rare.

** Those who are having trouble keeping up can try and search grids that have lesser cars on Pole, 2nd, and possibly 3rd position, so the G1s bottleneck behind these slower cars. Or add more power. That works too.

** At Nürburgring: it's a good idea to put as many Group 2 and 3 autos as possible in front of us. Try to get 'em on Pole and 2nd place at least. These sort of grids can take awhile to locate, but present a more even challenge. Having Group 1 start on pole is fine, but add more power (try 50 hp more) than I'm suggesting. Or perhaps a better car. That works too.
Unlike High Speed Ring, power should rarely be removed from grids at Nürburgring. Only if Group 3 cars start on Pole and 2nd place, and your car is an Uber supercar, perhaps.


Description:
First, the good news. I've been in the habit of entering cars with more power than the Ai can handle in various GT5 events. So initially I downplayed the power in my '97 Camaro to 302 hp and found myself finally getting pwned by some AI! ...It's okay. I don't mind adding.

Each of these is 3 laps and there is some excellent racing to be found. The Supercar Challenge first appeared in GT4. It was one of those events during which some tracks things felt massively competitive (Mid-field and High Speed Ring, for instance), and at others (Seoul, New York) we'd merely be playing "catch up" if a particular car got to the front. PD seems to have played with this a bit, so that GT5's versions feel improved overall.

I'm finding that many cars can be vying for the lead at High Speed Ring and Daytona...up to 5 or 6 at a time! Timing becomes crucial. It's too bad these are only 3 laps apiece.

Opponents:
GT5's Supercar Challenge allows a long, long list of potential cars that can show up as opponents, way more than in GT4, and we have an even longer list of cars we can use to fight them.

The most obvious "Supercars" tend to dominate. These are some of the the Ferraris, the Lamborghinis, the Paganis, the RUF Porsches, the Saleens, but (unlike GT4) a lot of these autos happen to be on the same page. Even the 1,000 horsepower Bugatti Veyron doesn't necessarily win every single time.

There are some obvious cars (Astons and older models like the Jensen and '69 Corvette) which are going to be losers no matter what. At High Speed Ring and Nurburgring....sometimes even Daytona, it might help to put these slower cars on or near Pole, because sometimes one of the better Supercars will get an early lead and there will be no catchin' it.

I've seperated our opponents into three groups.

Group 1 are the top-notch, the ones who are the fastest of the fast. These are usually the more exotic types of sports cars, and generally will do well at any track, regardless of whether they start on Pole or not.

Group 2 are the "grey area" cars. These sometimes do well if they start on Pole position at HSR and Nurburging, and can also sometimes make it to the front at Daytona, even if they start at the rear.

Group 3? These are the ones we will not have to worry about competitively. They always lose, and only matter as faster cars bottleneck behind them.

--If you're doing race after race losing to G1-packed grids, it might be a good idea to find a grid which is less competitive. Or add even more power than I'm suggesting--

GROUP 1:
'Audi LeMans Quattro
'02 Cadillac CIEN Concpet
'09 Chevrolet Corvette ZR1
'02 Ferrari Enzo
'92 Jaguar XJ220
any Lamborghini Countach
'67 Lamborghini Miura P400
'02 Lotus Esprit V8
'94 McLaren F1
Pagani Zondas of all types
911-styled RUFs (Yellowbird & BTR)
'02 Saleen S7
'00 Tommyykaira ZZII
'01 VW W12 Nardo Concept

GROUP 2:
'08 Alfa Romeo BC Competizione
any AMG Benz SLR McLarens
'04 Audi R8
'09 Bugatti Veyron 16.4
Callaway Corvette C12
any Chevy Corvette from the C5 generation
'94 Cizetta V16T
any Dodge Viper
'08 Ferrari California
'92 Ferrari F40
'06 Ferrari F430 Scudiera (however you spell it)
'09 Ferrari 458 Italia
'76 Ferrari 512BB
'06 Ferrari 599
'06 Ford GT
'08 Lamborghini Gallardo LP560
'09 Lamborghini Murcielago LP 640
'10 Lexus LFA
'08 Maserati Gran Turismo S
'00 Nissan R390 GT1*
'09 Nissan GTR Spec V
'00 RUF RGT
'01 Spyker C8 Laviolette
*Note: the Nissan is actually Group 1 material, but its gearbox is too short for High Speed Ring and Daytona. This car really destroys at Nurburgring, where its shorter gearbox won't max out of room.

GROUP 3:
any Aston Martins
'69 Chevrolet Corvette Stingray
Chevy Corvettes from the C4 era.
'74 Jensen Interceptor Mk III
'00 TVR Cerbera Speed 12


**If a car has not been listed above, this could possibly be because I haven't seen it yet. I'm noticing a LOT of models can potentially appear in the Supercar Festival.


High Speed Ring II:
Overall we have MASSIVE improvements over GT4, which featured a race at this same track. The Ai had a tendency to slow down waaaay too much as they got onto some of HSR's banks. Well this nonsense is gone. Prepare for a hell of a good fight now!

GT5's Ai displayed some draft-techniques during a few races prior to the Supercar Challenge, and still uses these techniques now. So don't assume that if you've got a lead that the Ai won't try to exploit your draft down HSR's long straights and steeper banks. I've watched my rear-view mirrors, and sometimes the Ai will change posistion left to right, right to left, if we're trying to stop them from catching our draft.


Daytona Superspeedway:
Things change at Daytona, because here it's all about speed and drafting, with hopefully zero braking, and cornering limited to how many g-forces can we pack onto those banks without slamming into a wall. Some of the Group 2 vehicles (especially those with slippery shapes like Vipers, Corvettes, and AMG Benzes) can wind up on the front lines here, coming up from the back of the pack. You'll notice that some G1s will now fall behind, as they need to be able to get to 200 mph and beyond to succeed, but their gearboxes limit this.

One of the things the competition tends to do wrong here is they brake into the turns. It's a small brake-tap they perform, yet this is all we need to sometimes get ahead. We should only be using brakes to try to keep us out of accidents, or to avoid bad cornering lines.

Nurburgring GP/F:
So this is yet another track that if you don't know it, it's best to prepare. Here's the first instance of this brand-new (for GT) track in our game. If you don't have experience here, it's a really good idea to prepare for several hours if necessary. I did a 25-lap race in a super-slow Audi A2 in Arcade mode, just to learn this track's turns in detail, before trying GP/F in a faster machine.

Putting as many Group 2 and 3 cars ahead of GP1 is recommended here. Some actual Supercar types might not need this restriction, though.

GP/F has very few passing zones, which means Group 1 and some faster Group 2 machines can wind up bottlenecked, giving us an advantage. This is a very tough track, you might start to witness some of the fastest cars start to screw up their cornering on occasion, sliding into some sand at the Schumacher S-Curve, for example!

Parts Needed:
Soft Sport tires
Medium Sports can be used if you've got something which is walking through the crowd a little too easily, especially at High Speed Ring. If your car can do HSR in 1:14.xxx or less while practicing with softs, use mediums for the actual race. At Nurburgring, if we're making an easy 2:12.xxx around an empty track, the same rule applies, although the actual race here will often be much tougher, so medium tires here can be a gamble.
Sport suspension: fixed or height-adjustable, depending on car and situation). Some actual sports and supercars can go stock here!

Full-custom suspension for some muscle cars, classics, and other poor-handlers, especially at Nurburgring. Try to make sure the car actually handles more firmly after tuning.

Chassis Reinforcements for models which feel "flimsy".

Brake Balancer

It's possible to race classics without ABS at High Speed Ring and Daytona, but we will need ABS at Nurburgring..no doubt.

Full-custom transmission for some whose gearing is too short at HSR and Daytona. Boxes should be rated at 230 mph (370 km/h), or more.

Close ratio or FC transmission at GP/F for some.

Assorted drivetain parts, including limited-slip differential for some models.

Variable-torque differential for all-wheel drives that can't corner without lotso understeer.

Cars Used:
-Sports Car Class-

'99 Honda S2000 (2,400)
'74 Lamborghini Countach LP400 (2,400)
'04 Chevrolet Corvette Z06 (3,100)
'07 BMW M3 coupe (3,700)

-Tuned Car Class-

'99 Subaru Impreza Sportwagon WRX STi Ver. VI (2,400)

'69 Chevrolet Camaro SS (3,000--currently HSR and Daytona)
'88 Toyota Supra 3.0 GT Turbo A (3,000)


'97 Chevrolet Camaro Z28 (3,500)
'95 Mitsubishi 3000GT VR-4 (3,500)
'08 Audi RS6 Avant Quattro (4,500)
------------------------------------------------------------------

Lupo Cup

Rating: **1/2

participants: 12

Level: 12

'00 Lupo Cup Car = 85 hp
'03 Lupo Cup Car = 90 hp

'01 VW Lupo GTI = 88 hp
'02 VW Lupo 1.4 = 90 hp


* Weight reductions are not used for this event. If you've entered a car with reduced weight, you'll need even less power than being suggested.

* Even though it is 42 kg lighter, the VW Lupo 1.4 requires a little more power than the GTI because it has a less efficient 5-speed gearbox. The GTI, on the other hand, has a 6-speed.

Description:
Okay, the Lupo Cup race is rated at Level 12? That does not compute. But let's not judge before the first lug nut is twisted, perhaps this race will be something of merit. After all, it's held at Nurburgring Nordschleife.

Since the cars we're up against rate with lowish power, perhaps PD is giving this a "Level 12" simply because of the track, not the competition at the track. Honestly, the toughest thing about this race is finding an actual Lupo. As usual, it can take awhile before one shows up, and these cars are NOT Premium, which means we'll need to stalk that used car lot like a detective.

Our enemy is driving Lupo "Cup Cars"; actual racing machines, in other words. But we don't need to spend extra money on a Cup Car, a regular Lupo will do. A Cup Car does get awarded as a prize after winning an earlier set of races.

Opponents:
Uh oh. Rated at around 133 hp, the question gets raised: did PD even bother to tune these babies? I'm thinking "not". The Lupo Cup is packed with race cars, but do not be fooled by their racing livery, these guys seem to have made it thru the AMG Driving School with barely a passing grade. Check it out...I'm actually using the power restrictor to get a fairer race here! Even an oil change can be overkill.

It's not that they're low-powered, it's also the fact that these Cup Cars drive conservatively; using brakes at Flugplatz, for instance. As usual, they've got TCS equipped. We can hear this by the way their engines start sounding down on power every time they're in a turn.

First time I did this race in a 113 horsepower Lupo, I was ahead of the entire pack by Schwedenkreuz, which is roughly less than 1/3rd of the entire track! Even down straight sections, a simple draft can sometimes get us easily ahead of these guys. We'll be out-cornering them, but with the power restrictions recommended above, chances are they'll eventually wind up catching back to us, especially during uphill sections.

Thank goodness for this racing guide.

Parts:
Soft Comfort tires

If you use the Lupo Cup Car, minimize downforce. And obviously, use that power limiter, too.

------------------------------------------------------------------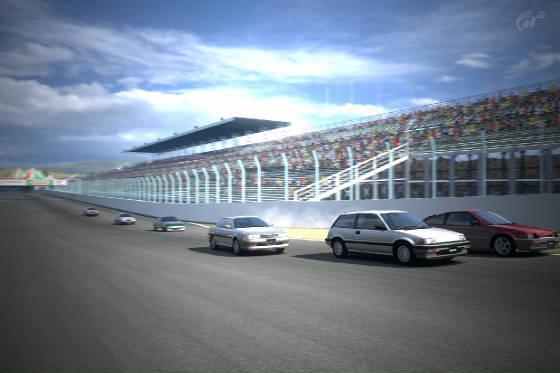 Japanese 80's Festival

Rating: ***

Opponents: 12

Level: 12

Autumn Ring
(1,300) 18.30 - 71 hp
(1,800) 24.32 - 74 hp
(2,000) 24.61 - 81 hp
(3,000) 28.84 - 104 hp

Deep Forest II
(1,300) 16.05 - 81 hp
(1,800) 20.45 - 88 hp
(2,000) 21.50 - 93 hp
(3,000) 26.54 - 113 hp

The above ratios should work with either front or rear-drives.
10 less hosepower can be used for grids which include a lot of non-sports car types up front, especially at Autumn Ring.

This is usually the part where I say "push the best cars that can possibly show up a few positions behind Pole." But depending on what car is entered and how skilled the driver, it's sometimes best to keep some of them up there!

Description:
These races look as if they'll be a lot of fun, right? After dealing with the Supercar Challenge, really knuckling down and giving it everything we had, going back to a "classic" racing event looks as if it'll be just the thing we need to calm those nerves. I don't know about you, but I can use an easier set of races! But not too easy, right? I do want some challenge.

We've got two classic Gran Turismo tracks to battle at, 5 laps per race, and we finally get to pore through that collection of Reagan/Thatcher era of automobiles that has been sitting in our garages, waiting for their turns at glory.

And then reality sets in....

Opposition:
In most cases, our opposition seems balanced. Typical sports car types (RX-7s, MR2s, Silvias, etc.) get a slight edge over non-sports cars (Celicas, EX Canopies, Lancers, etc.). Despite this, the sports cars will not always dominate. This is the good news. I've seen the heavy front-drive Honda Accord Coupe outrun an RX-7, for instance. Only the Mazda MX-5 will occasionally jackrabbit at Deep Forest, getting many car-lengths ahead of everyone else, but this also assumes it starts somewhere near the front. Another go-getter is the Toyota MR2. Keep MR2s and MX-5s away from Pole if you want a closer race overall, or put 'em up there if you want more challenge.

Looking at the "Typical Opponents" list in-game, the first thing that's obvious is they've got lots more power now, in comparison to the Japanese Classic races from the Beginner's league. The top car in those races (the Dome Zero) only had about 140 horses. In the '80s Festival, we're now seeing Skylines, Supras, and a few others pushing 200 or more.

I entered my '83 Corolla, gave it an oil change (125 hp) and stopped there. STOP! I figured this would be enough to compete. Turns out, it's actually too much. A lot of cars will need their power limited, unless a search is done for something which won't dominate too easily. No Skylines, for instance.

Autumn Ring
...And then there's the enemy itself. Gone is the passion they often diplayed during the Japanese Classic races, especially at Autumn Ring. Rarely will we witness any daring passes or cars taking desperate lines just to gain a position. Good passing zones for us here at Autumn Ring are any of the kink areas (Turns 2 thru 7) and the two hairpins.

Deep Forest:
We start seeing some sparring here and there, and overall this track can be lots more challenging since the Ai's horsepower is now more involved. There is occasional in-fighting, cars taking turns a little too hot, and other such behaviors missed at Autumn Ring. I once saw an MR2 actually brake too heavily into Turn 4 (the end of the backstretch), get squirrely, and it almost lost its balance, despite the ABS it's been equipped with.

This track is the reversed version of Deep Forest, and this is our first instance of racing here during A-spec. Although they will most-likely be passing us down straight sections, there are some beautiful passing zones for us to gain back position(s).

Take Turn 1 at about 88-ish mph for instance (avoiding the traffic, which is all braking more heavily) and multiple positions can be stolen as we climb the long Deep Forest hillside. The second hill after Turn 4 (the one that weaves upwards, right to left...left to right) is another great passing area. Here the enemy starts to get a little too cautious.

Although I have made sure these 2 races feel challenging, keep in mind that this challenge is completely artificial, and is based on massive horsepower de-tuning in most cases. It sucks that I'm not able to run my Corolla at full power, or even lightly tuned.

Parts & Services:
Soft comfort tires

Fixed Sport Suspension for those which can't crank out a win without some help.

Close-ratio gearing for those that have gearing that is way too tall.

Full-custom gearing for those that have stock or close gears that wind up being too short.
Single-plate clutch + lighter flywheel for Keis and other natural weaklings. FRs can add carbon driveshaft, too.

Engine Limiter (!)


Cars Used:
'89 Mitsubishi Minica Dangan ZZ (1,300 pounds)
'83 Honda CR-X Sports 1.5i (1,800 pounds)
'83 Toyota Corolla GT-Apex (2,100 pounds)
'88 Honda Accord Coupe (2,700 pounds)
'89 Toyota Corona EXIV (3,000 pounds)

--------------------------------------------------------------------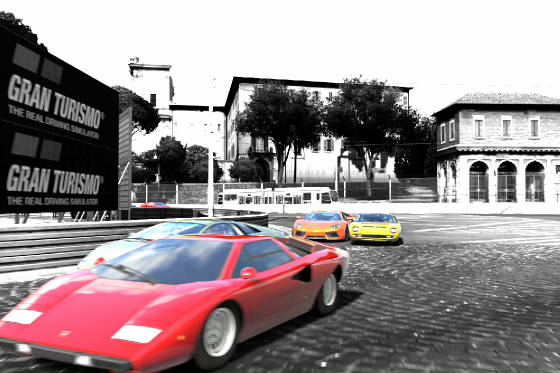 Lamborghini Exclusive

Rating: ***

participants: 12

Level: 13

Rome Circuit
'74 Countach LP 400: 449 hp

'88 Countach 25th Ann. Edition: 470 hp
'08 Gallardo LP 560-4: 500 hp

'11 Aventador LP 700-4: 515 hp

The above cars have not had weight reduced. Some extra power may be needed if the Miura or '74 Countach starts on Pole. But if they start on 2nd (or any other position), the power above should be okay.
For those who don't own a Lamborghini at all, and don't really care which model you choose, the best choice for you will be the Gallardo. Gallardos can be used not only in the Lamborghini Exclusive, but also in the B-spec version of this race. Later during the Expert Series, the Gallardo can be chosen again during the Gallardo Trophy: A-spec and B-spec versions.

Description
At some point, I happened to wind up with a Lamborghini Aventador, which possesses 669 horsepower. I was feeling lazy, and did not want to hunt down anything with less power (like a Miura) at the time. I assumed the Aventador would walk over the crowd.

Yes, it certainly can, with all of that power, but that doesn't mean this single-manufacturer race will be necessarily easy. My first 3 tries resulted in losses, despite all that power. Why? Mostly because I wasn't used to driving this car, and it had been awhile since I had driven at Rome Circuit, too. I have also recently driven an '88 Countach. This car needed some power and tuning to survive.

Bottom line: a bit of minimal practice is all it'll take to succeed here. This race isn't all that tough, but neither is it the cakewalk I assumed it would be.

Opponents
...It also was a slap of reality to find the Lambos in this race like to drive VERY FAST. They also drive well: besides an occasional wall-tap out of the fast downhill chicane (Turn 6, I believe), I have yet to see them make any major mistakes. Edit: actually I have seen some of them make mistakes! There are some drivers who get a little too eager, sideswipe walls after not braking enough. But these moments are uncommon.

The super-lightweight Miura P400 and '74 Countach are the only ones (so far) that I've seen jump ahead of the others, to the point that they're impossible to catch without some extra power, but this only happens if they start on Pole position. Unfortunately, many grids feature one of these two on Pole.


Parts Needed
Soft Sport Tires for historics, such as the Countach, maybe the Miura as well.
Hard Sport tires for the Aventador, Gallardo, and Murcielago LP. These can go stock, otherwise. Stock tranny, stock suspension, etc.

Close-ratio gearing for some.

Limited-slip tuning for most older models

Brake Balancer, or you can turn this off for extra challenge.
ABS brakes for everyone. I have tried not using ABS on older cars, and I believe it is possible to do this race without them, but I'm not that skilled yet.

------------------------------------------------------------------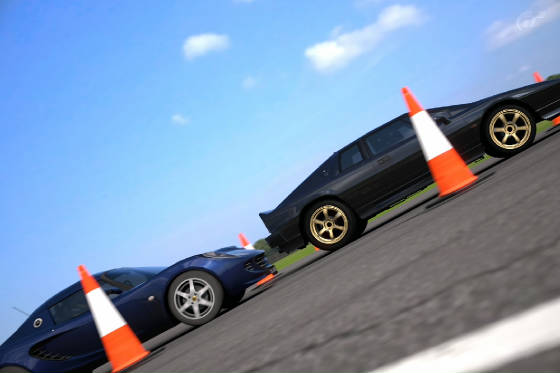 British Lightweights

rating: ****

Participants: 12
Level: 13

-HISTORIC CLASS & Front-drives-
London
(1,400) 7.69 - 182 hp
(1,800) 9.42 - 191 hp
(2,500) 10.50 - 238 hp

Top Gear Test Track
(1,400) 8.54 - 164 hp
(1,800) 10.23 - 176 hp
(2,500) 11.63 - 215 hp

-SPORTS CLASS-
London
(1,400) 10.22 - 137 hp
(1,500) 10.71 - 140 hp
(2,000) 12.90 - 154 hp
Top Gear Test Track
(1,400) 11.38 - 123 hp
(1,500) 11.81 - 127 hp
(2,000) 13.60 - 147 hp

Historic class includes those older cars that can be raced in the European Classic events (1979 and earlier) though we can also add some cars from the 1980s and '90s here too. Front-drives such as the Vauxhall Tigra and Vauxhall Corsa are a couple examples which will need this class, and its extra bump of power.
Sports Class obviously includes those that are ... well ... better designed for modern track use. Any Lotus, which includes the '87 Esprit, or newer. This class also includes some TVRs.

Lotus Elises and Europas are our strongest opponents. Start them no higher than 3rd at London, and 2nd at TGTT. See Opponents section below for more details.

Description
British cars weighing less than 1,200 kg (2,644 pounds) are apparently considered "lightweights", which gives us a huge window of possibilities to consider. I think the GT4 version of this series had a much lower bar than 1,200 kg.

I've been complaining here and there about how some of the "Pro Series" racing is ridiculously easy, more like Beginner's League stuff. Well, not the British Lightweights. The race at London is sublimely tricky, unless you 'fix' the grid by putting the best opponents back a few positions. If this is not done, the leading cars can get multiple seconds ahead...anywhere from 6 to 9 seconds. If we had 5 laps to catch them, this would be okay, but with just 3 laps .... things can get frustrating. I would say that the race at London is the least fun, out of all the events we've been to so far throughout the entire game.

But we also have a new track to race at: the Top Gear Test Track. I have never driven here except for during the Special Condition events. Well, there is thankfully no chance of "failing" this race like there was when we were driving those silly VW buses, but practice still becomes very pertinent for survival. Unlike the London race, the Top Gear one can be much more enjoyable, and yet is still a challenge.


Opponents
Be forewarned: The cars in this series drive very fast, but sometimes can be very sloppy, too. They zip through certain turns at both tracks; watching a replay is like being in a Jason Bourne movie.

But I have noticed they sometimes have trouble with corners (big surprise, eh?), especially the tighter ones. The mid-engine Lotuses and MGFs often lose time as they sway-oversteer at both tracks in and out of tighter areas. They sometimes tap or smack walls at London, to the point that they can come to a standstill!

There is one grid that (I swear) seems to have a scripted car: one of the Elises will wipe out and then fully spin, pointing towards the wall. Learn to predict when and where this is about to happen, and instant positions can be gained if an unorthodox cornering line is used. Oddly, none of the Ai will hit this crapped-out Elise; it's as if they all know what is about to happen.

I was dreading the drive at the Top Gear Test Track, but as it turns out this can be a very fun race. Multiple positions can be gained early in the race (during the first 7 turns) as the Ai gets into their usual traffic jams.

The mid-engine Elises tend to brake too late into certain areas, and wind up taking turns too hot. Then they slide, sometimes uncontrollably. It is not uncommon to see them wind up in a full spin during The Follow Through (<-this is where the track merges in the middle). The Ai also has a habit of slowing way down into the 2nd to final turn (the short straight area known as Gambon). This is a great place to plan a pass, all we gotta do is trail-brake carefully, and then choose the right line, while the Ai tends to get confused and struggles here.

We also don't have to worry about knocking over the wrong cone, or driving too far 'out of bounds', now that the race is on. Driving onto grass is okay, and we can also drive over any painted line we wish. There are some 'invisible walls', though, and it's hard to tell where they lie, of course. The best defense is to just stay out of the grass, although this is sometimes impossible.

Lotus Elises are the ones to watch for; they can trump TVRs, MGFs, and any others not listed. Lotus Europas also are dangerous, but only if they start on Pole. At London, start Elises no higher than 3rd (assuming non-historics start in 1st and 2nd place).

Parts
Hard Sport tires
No ABS. Many of the cars in this series (even TVRs and Lotuses) do not have ABS in real-life. Do some research online to figure out if your car would or would not have had ABS braking.
Another option would be to use ABS brakes, but equip your car with comfort soft tires. The opponents are all on these cheap tires, and are all using ABS. Your choice.
Chassis Refresh Service for historics, even if their mileage isn't super-high yet.

Height-adjustable sport suspension for historics and front-drives. All others can go stock or with a Fixed sport suspension

Close-ratio gears for many. Most cars won't need fully-adjustable transmission.

Drivetrain parts as needed. Many will most likely need limited-slip devices, especially without ABS braking. I find that 15-25-25 (or close to this) works well for mid-engine cars. Front-engine, rear-drive cars might need less Initial gearing, but more Acceleration. The Lotus Europa will need something much more drastic than anybody else, I came up with 30-60-45.


Cars used
'62 Lotus Elan (1,400, Historic)
'74 Triumph Spitfire (1,800, Historic)
'87 Lotus Esprit Turbo (2,500, Historic)
'00 Lotus Elise (1,500, Modern)
'00 Lotus Elise (2,000, Modern) -- ballast added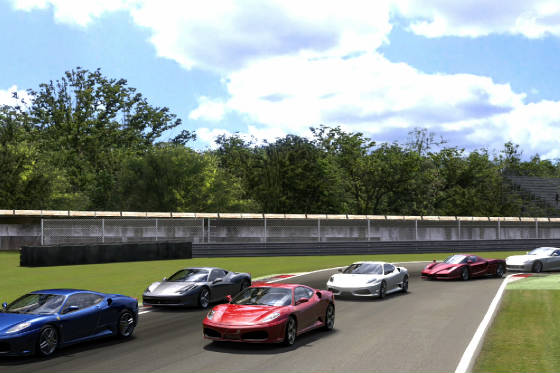 -------------------------------------------------------------------------------------

La Festa Cavallino

rating: **
Participants: 12

Level: 14

'92 Ferrari F40: 473 hp
'06 Ferrari F430: 492 hp
'76 Ferrari 512 BB: 500 hp
'09 Ferrari California: 550 hp

All cars above have not had weight reductions, or ballast added. Reducing weight will probably mean less power should be used.
Let's talk about that Ferrari Enzo. Have a look at the Ferraris in the Supercar Festival charts above. Of all the Top Exotic machines (Group 1) the Enzo should be started no higher than 3rd place, and I try to start them back even further than this, if possible. The only exception to this is if I'm entering a car that actually IS one of these Gp1 autos.


Description
I am pretty sure all the Ferraris of GT5 can be bought from the Premium car lot, which means going to the used car lot looking for that perfect deal is a waste of time. Yeah, I've done this. The Cavalino race only gets 2 stars because it's a little too predictable, and only features one race at one track. But it is still fun, and hey, we're finally racing some Ferraris in Gran Turismo.

One tip: When drafting a group of cars down the main straight area (where the Start/Finish line is) you may need to start braking before the 200M into the first chicane, depending which car you're driving. I've been using the very last service exit (with the guardrail painted orange) on the left as a braking point. 200M turned out to be too late when I drove my 512BB.

Opponents
It seems some of the weaker cars in this race have been tuned, an effort to keep up with the very top models (F40, 599, Enzo, and F430), but it's these top models that will still dominate. They are virtual race-cars made for street use, after all. And to further narrow this field down, it's the ENZO who will be most dominant of all. Try and start these suckers as far down on the grid as you can. If you manage to get a lead and get many car-lengths ahead of the group, it's going to be the Enzo Ferrari that'll wind up in your mirrors, and since this race uses a 'repeater'-style grid, there are no races without Enzos.
One of my favorite grids features an Enzo starting just in front of us, but an F40 on Pole. It's possible to catch up to the F40 during Lap 1 or 2, get a nice draft from it, pass it, and now we've got a solid lead while the Enzo might still be stuck behind traffic.

We can study the Supercar Festival Group 1 and 2 lists to figure out which Ferraris are top, and which are secondary, and then stack the grid, if that's what's preferred.

Parts
Soft Sport Tires

Suspension: I have found that suspension work is only needed for older Gp2s so far, and tuning does not need to be too extensive. Even the oldest Ferrari (the 512 BB) available to us already corners with precision. A Height-adjustable Sport Suspension is recommended for the 512, while others can go with fixed or factory parts.

Close-ratio transmission if needed.

Limited-slip for some, especially super-swivelly types.

Assorted drivetrain parts, as needed.

ABS brakes, balancer is not needed for newer Prancing Horses, though it really helps the 512 BB.

---------------------------------------------------------------------
Gran Turismo World Champion

rating: ***1/2

Participants: 12

Level: 14

Welcome to the GTWC. There are two classes going to be used for this set of races. Sports cars are generally 2-seater or 2+2 types with exceptional handling and sleek aerodynamics, while the Tuners are generally boxier 2+2 coupes, sedans, and all the other body types. Nothing is set in stone though. There may be that oddball which falls in one class, when it seems as though it should fall under another.
Sports Cars
Circuit de Sarthe, 2009 (2 laps)
(2,000) 4.58 - 437 hp
(2,500) 5.16 - 484 hp
(3,000) 5.65 - 531 hp
(3,500) 6.27 - 558 hp

Nurburgring Nordschliefe (1 lap)
(2,000) 5.15 - 388 hp
(2,500) 5.59 - 447 hp
(3,000) 6.04 - 497 hp
(3,500) 6.93 - 505 hp

Circuito de Madrid
(2,000) 5.84 - 343 hp
(2,500) 6.25 - 400 hp
(3,000) 6.52 - 460 hp
(3,500) 7.36 - 475 hp

Cape Ring
(2,000) 5.76 - 348 hp
(2,500) 6.31 - 396 hp
(3,000) 6.59 - 455 hp
(3,500) 7.43 - 471 hp

Grand Valley Speedway
(2,000) 5.41 - 344 hp
(2,500) 6.47 - 386 hp
(3,000) 6.74 - 445 hp
(3,500) 7.57 - 462 hp
Top sports cars with mandatory downforce (like the Nissan R390 GT1 road car) and those with front downforce up to 35 should have extra power deducted at Madrid, Cape ring and Grand Valley. I like removing one HP per one point of front downforce, so if the front-end has aerodynamics of 35, remove 35 hp.
Tuners
Circuit de Sarthe, 2009 (2 laps)
(2,400) 4.80 - 500 hp
(2,700) 5.17 - 522 HP
(3,000) 5.38 - 557 hp
(3,500) 6.09 - 575 hp
(4,500) 6.33 - 710 hp

Nurburgring Nordschliefe (1 lap)
(2,400) 5.04 - 476 hp
(2,700) 5.57 - 485 hp
(3,000) 5.58 - 538 hp
(3,500) 6.24 - 561 hp
(4,500) 6.67 - 675 hp

Circuito de Madrid
(2,400) 5.52 - 435 hp
(2,700) 6.07 - 445 hp
(3,000) 6.13 - 489 hp
(3,500) 6.68 - 524 hp
(4,500) 7.39 - 614 hp

Cape Ring
(2,400) 5.71 - 420 hp
(2,700) 6.32 - 427 hp
(3,000) 6.39 - 469 hp
(3,500) 7.14 - 490 hp
(4,500) 7.60 - 592 hp

Grand Valley Speedway
(2,400) 5.87 - 409 hp
(2,700) 6.43 - 420 hp
(3,000) 6.46 - 464 hp
(3,500) 7.14 - 490 hp
(4,500) 7.35 - 612 hp

Start the Pagani Zonda LM, Jaguar XJ220 LM, Ford GT LM, GT by Citroën, Team Oreca Dodge Viper GTS, or McLaren F1 GTR no higher than 4th place. If any of these are placed 3rd or higher, add 20 horsepower for each position over 4th. If the Jag starts on 2nd place for instance +40 is needed.
The '70 Chaparral 2J is a jackrabbit. I personally ban it. Some other historic cars ('69 Ford GT40 and '66 Jaguar XJ13 for instance) can also be given the same treatment as those mentioned above.
* The race at Sarthe can be tried with up to 25 hp less if you don't mind some punting and getting caught in some really difficult traffic. Wins are still possible under these conditions but this option should only be taken for those who are confident to the point of Überness!

Reduced power can also be tried at Nurburgring, although if you get stuck in traffic early, and a couple cars start drafting one another, they may be impossible to catch if you haven't got this extra power.

Cars which have only partial wing kits (rather than front spoiler, fender extentions, etc.) should be given medium slick tires. Only exception to this is if the enemy gets pwned too easily at Sarthe with mediums. It happens sometimes.
Description
All right, drivers, here's the moment we've been waiting for.

One of the greatest things about the GTWC is that we can still use heavily-modified passenger models (perhaps from the used car lot), something we haven't been able to do since GT2. The GTWC of GT4, for instance, would require an Oreca Viper; an ordinary GTS from the dealership simply would not do. But in GT5, PD has gone back to their original formula, which adds to the fun. I'd much rather race something I've bought, tuned, and virtually built myself.
For those who wish to race actual racing cars, this can be an option too. Less power will be needed, since race cars have much better aerodynamics.


Opponents
Here we have the expected Gran Turimso mishmash of differing race series, classes, and types of cars. A JGTC racer is just as likely to compete with another JGTC as it is against something from the original Can Am. It may also face a choice from the DTM. Or an LM fantasy machine. The gang's all still here. FIA/GTs and a member from the D1 drifting events (the Blitz Skyline) also appears.

The best strategy is to put as many JGTC and DTMs up front, these will compete with one another in relative fairness. All the best cars happen to be LMs, or occasional vintage ancients from the '60s and '70s. One of these days I'll make a proper list of cars (their horsepowers, their weights, etc), but for now, this is the list of jackrabbits.


Pagani Zonda LM
Jaguar XJ220 LM
Ford GT LM
GT by Citroën
Team Oreca Dodge Viper GTS
McLaren F1 GTR

'70 Chapparal 2J
'69 Ford GT40 MKIV
'66 Jaguar XJ13

The Jag and Ford LMs surprised me. In GT4 these three did not appear in the GTWC, and when they did show up in Extreme Hall races, they weren't usually tops. I nicknamed the Pagani "The Dominator" during GT4's Dream Car Championship, though. The GT by Citroën usually only becomes top-notch if it starts somewhere near the front of the pack. Otherwise, it'll get bottled up behind others, burdened by its extra weight.

The ancient Jag (the XJ13) and Dodge Viper will only do well if they start towards the front of the grid, but the 2J and GT40 can wind up competing for 1st place even if starting behind us.

Let us peruse our list of tracks, now.

Circuit de la Sarthe, also known as the track where the Le Mans is held. This track (and the 'Ring) are the two that'll be most demanding, but Sarthe is much tougher than the 1-lapper around Nurburgring. It's not so much the track as the competition: Sarthe is the only race during which we'll have to worry about excessive punting and skewing during the GTWC. For some reason, they sometimes get aggressive here.

Practice the hell out of these two tracks; it's very important to know all the little things: braking zones, how far of a line we can take, where that hidden soft shoulder lies, etc, Do some Arcade races to get a feel for how the Ai likes to drive this track.

Drafting becomes extremely pertinent at Le Mans. And I try to limit my cornering only to the areas of the track that are considered "legal", in effect, I don't scramble all over the grids, cutting a straight line where a chicane resides, etc., not intentionally anyways. Sometimes traffic can force us to make some drastic moves, but (so far as ratios go) I have calculated what's above while trying to corner 'cleanly'.

Do some laps around Sarthe if there is any confusion...they will make it very clear which areas are considered cheating to drive upon.

The Ai can get aggressive at this track, as mentioned. As entire groups clod together down the end of the Mulsanne, it's best to drive defensively, even if it means giving up a position or two. Get thru this kink out-in-out, and hopefully there is now somebody to draft.


Nurburgring
Is not as difficult as Sarthe, for those who know the 'Ring in detail. The main reason is the Ai tones it down a few notches with their agro-level. It still helps if we know the track well though, which keeps them from jumping all around us as we make mistakes like brake too early, or navigate high-speed turns wrong. It's important to keep them from knowing this track better than we do, basically. Practice laps, an arcade race or two (at least 5 laps) even in a lesser car can help. And of course, there's the AMG Driving School.

Circuito de Madrid. Now we're in Spain. Keep in mind this so-called "World Championship" has yet to go to America, Japan, or anywhere else on our planet. Some other Gran Turismos have gone to different continents, at least.

But in GT5, we never officially leave Europe until the very last race (it is my opinion that Grand Valley is on the Mediterranean, but Cape Ring is in South Africa, but this is just a bit of pretending on my part). No Laguna Seca? No Suzuka?

Madrid feels much easier than the others, mostly because it has some slower areas where the Ai tends to drive...slower. They haven't got as much room to stretch their legs on some longer straights, and they can't rely on aerodynamics for these slower turns. It's a good idea to think "unorthodox racing lines" to get around them as they sometimes brake a little early, and refuse to put as much power down as they could during this track's chicanes, hairpins, and loops.

Cape Ring
I was guessing Cape Ring would be the easiest of all. First time I tried this track, I also tried using the same power here that was used at Madrid in my '07 GT-R (524 hp) and wound up with a 5.497 second lead by the end of the race! But it also depends on who has shown up as competition, and where they start on the grid. Alphas and rabbits who get slowed by traffic during the first three laps can suddenly be in our mirrors during the last two.
Good places to pass are in the early curvey areas, hairpins (take 'em with an out-out-out line while out-braking and the enemy often gets destroyed), and (of course) the ring itself.


Grand Valley Speedway
Here we are, the at final gala, and it feels rather anticlimatic. This race at GVS can be even easier than the one at Cape Ring, though (again) it all depends where those better cars are started. A Pagani starting 5th will become a real threat, real fast.
But get some practicing at Grand Valley beforehand and the actual race will feel like a cinch. There are many many places to pass. The Ai has a habit of braking in odd areas we won't need to, and also not jumping on their throttle as quick as we can.

There are several concrete aprons we can use to get more speed in certain areas of GVS. I have tried to only drive 2 wheels at a time over these aprons, rather than 4, assuming there's no traffic to contend with. This is a meaure of fairness, since the A.I. also does not take advantage of these aprons. But if you are desperate to pass a car, I've calculated the ratios to include moments like this. Depending on who's in the race, you might still find some decent challenge.
Parts

Wing/Aero kit (these are the parts from GT Auto, NOT full racing kits. Those with kits which include enhanced front downforce should have 1 HP deducted for each notch of front downforce. -20 gets removed for a car with a front spoiler of 20, for instance.

Hard Racing Tires for those with full aero/wing kits. Some from the Sports Car class can also use these tires at certain tracks, even with partial kits. Make a judgment call on this one.

Medium Racing Tires for those Tuners that only accept a partial kit (usually a rear wing, but no spoiler or extensions). OTOH, some cars (like the Audi R8) have a strong enough front downforce effect that they can use HRTs even though there is no front kit. Note that the R8 has a fixed setting of '10' up front.

Brake Balancer

Suspension work as needed. Some may need full-custom parts, while others (like the '07 GT-R I initially raced) can go stock!

Close-ratio gearing at some tracks.

Full-custom gearing for those that truely need it.

Twin clutch, lighter flywheels, carbon shaft (if car has a driveshaft). Limited slip, variable torque device, if needed.

Chassis reinforcements, especially for flimsier vehicles.

Oil change can be had, but beware. It is possible some engines can lose drastic amounts of power from race 1 thru 5 as their oil loses viscosity. We cannot use GT Auto during a season, so make sure your car won't be so down on power at the final events that it can no longer compete.

Engine & chassis rebuilds, if needed.

Cars Used
'00 Tommykaira ZZ-II (2,000 / light weight, Sports Car Class)
'98 Nissan R390 GT1 (2,400 / medium weight, Sports Car Class)
'00 RUF RGT (3,000 / medium-heavy, Sports Car Class)
'07 Audi R8 4.2 FSI R (3,500 heavyweight, Sports Car Class)
'99 Subaru Impreza Sport Wagon WRX STi (2,400 Tuner Class)
'02 Subaru Impreza WRX STi (2,700 Tuner Class)
'10 Chevrolet Camaro SS (3,000 / med-heavy, Tuner Class)
'00 Ford Mustang SVT Cobra (3,500 / hvywght , Tuner Class)
'07 Nissan GT-R (3,500 / heavyweight, Tuner Class)
'08 Audi RS 6 Avant (4,500 / super-heavy, Tuner Class)

NOTES: the Subaru up above wound up getting ratios which seem abnormally low. This car had medium racing tires during the first race at Sarthe, but after slaughtering the competition here, I switched to hard tires, and most of the time, the next 4 races seemed too easy. Either I got lucky with my full-custom suspension tuning (meaning that a height-adjustable will make things challenging again) or the pack of drivers who showed up were all 'cool-headed'.
The Audi RS 6 (super-heavy Tuner) needed medium slick tires ... its weight prevents hards from being sticky enough.